For years I have been trying to get IronCAD to give some Corporate Webinars. They have finally taken my advice. Please plan on attending and see how IronCAD can enhance your CAD capabilities. Especially if you have to communicate with other systems such as Pro/E, NX, Solidworks, Inventor or Catia 4 & 5.
Drag and Drop CAD Design Exposed!!
So where do you drag & drop them from?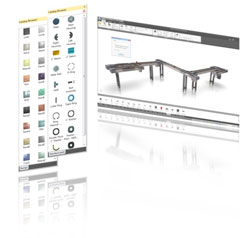 Friday, June 27, 2014 11:00 AM - 12:00 PM PDT
Join us for a demonstration on how to create incredible designs quickly and easily using IRONCAD's powerful 3D catalogs. In the demonstration you will see how catalogs are used to create parts, assemblies and visualizations using a simple yet powerful drag and drop design methodology
Click here to sign up!
---