I came upon this contest and was amazed they provided two complete super car chassis. The contest is to design a new custom body.


Supercar System: Design the Future Body Challenge
Now this is no trivial chore. This is going to take a robust surfacing package. The advanced surfacing software that is used in the industry for body design are Alias and Catia ICEM. I have also heard that Creo and NX have robust advanced surfacing systems.
But most of us are not lucky enough or rich enough to have those packages available. So what inexpensive surfacing systems are available that may do the job? Rhino or ZW3D. While I sell ZW3D I am hardly an advanced surface modeler. Yes, in the beginning of 3D CAD surfacing showed up for me in 1988 and we proceeded to create net surfaced parts for the new CNC and Stereolithography until solid modeling showed up in 1995. Surfacing is very tedious tough work and takes a high level of skill and experience to do body design.
Here is a reverse engineering job I did of a 1959 Corvette bumper. I almost had it all done but the software I was using just couldn't complete the job. We hired an Alias user to finish for us.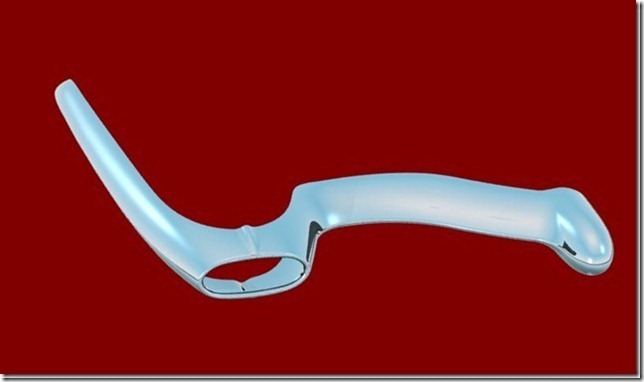 Reverse Engineering Success!

1959 Corvette Bumper

Surfacing is widely used in reverse engineering. I was successful in converting these .stl scans into finished usable models. I used ZW3D robust reverse engineering functionality to convert the .stls to solid models and IronCAD to complete the final product.
Reverse Engineering 2015
-

AK-47
Project

So you can see I have quite a bit of experience with surfacing but to take on the task of designing a body would be more of a learning curve I am willing to go through.
Selcuk

Ozmumcu could

probably do it. He designed both of these vehicles in ZW3D Standard.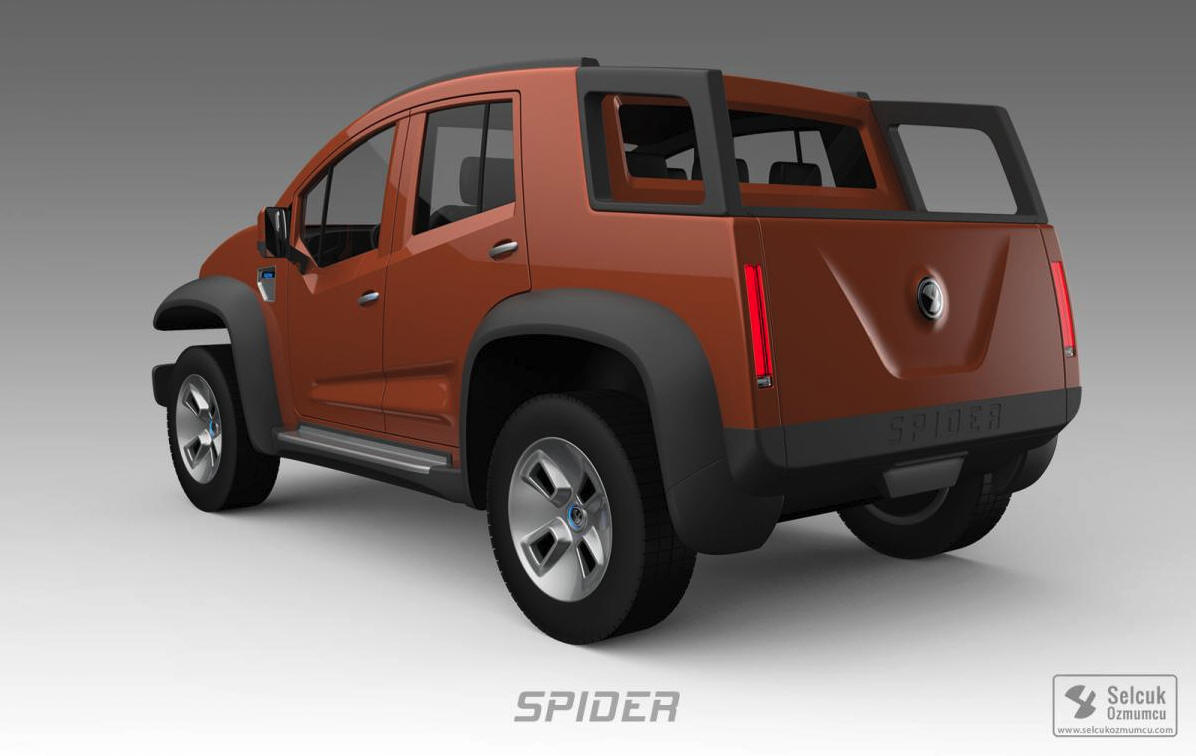 The Most Incredible Presentation of Hybrid CAD Modeling, Ever!!
---
I wanted to see how these models would import into both ZW3D and IronCAD. Both can bring the complete model in a single file.

Let's start with ZW3D. Now ZW3D Standard has integrated Class A surfacing and can be operated as a standalone surfacing package. So a highly skilled surface designer could probably do the job in ZW3D.

Notice the parts and sub-assemblies are defined. These are not trivial assemblies. I can only imagine how importing them into a Solidworks or some other clone would fill a folder.


This is the Nucleus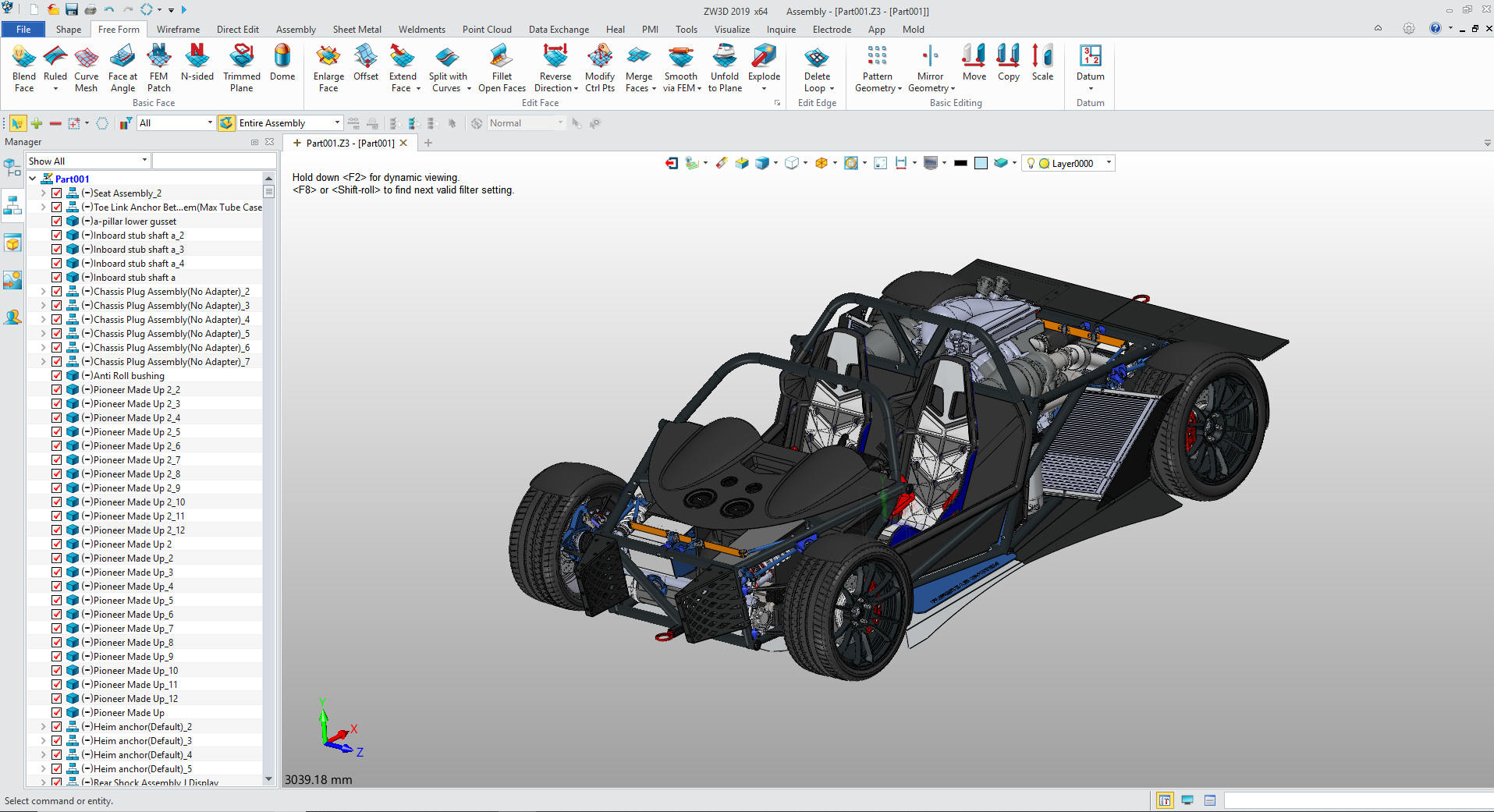 This is the Rookie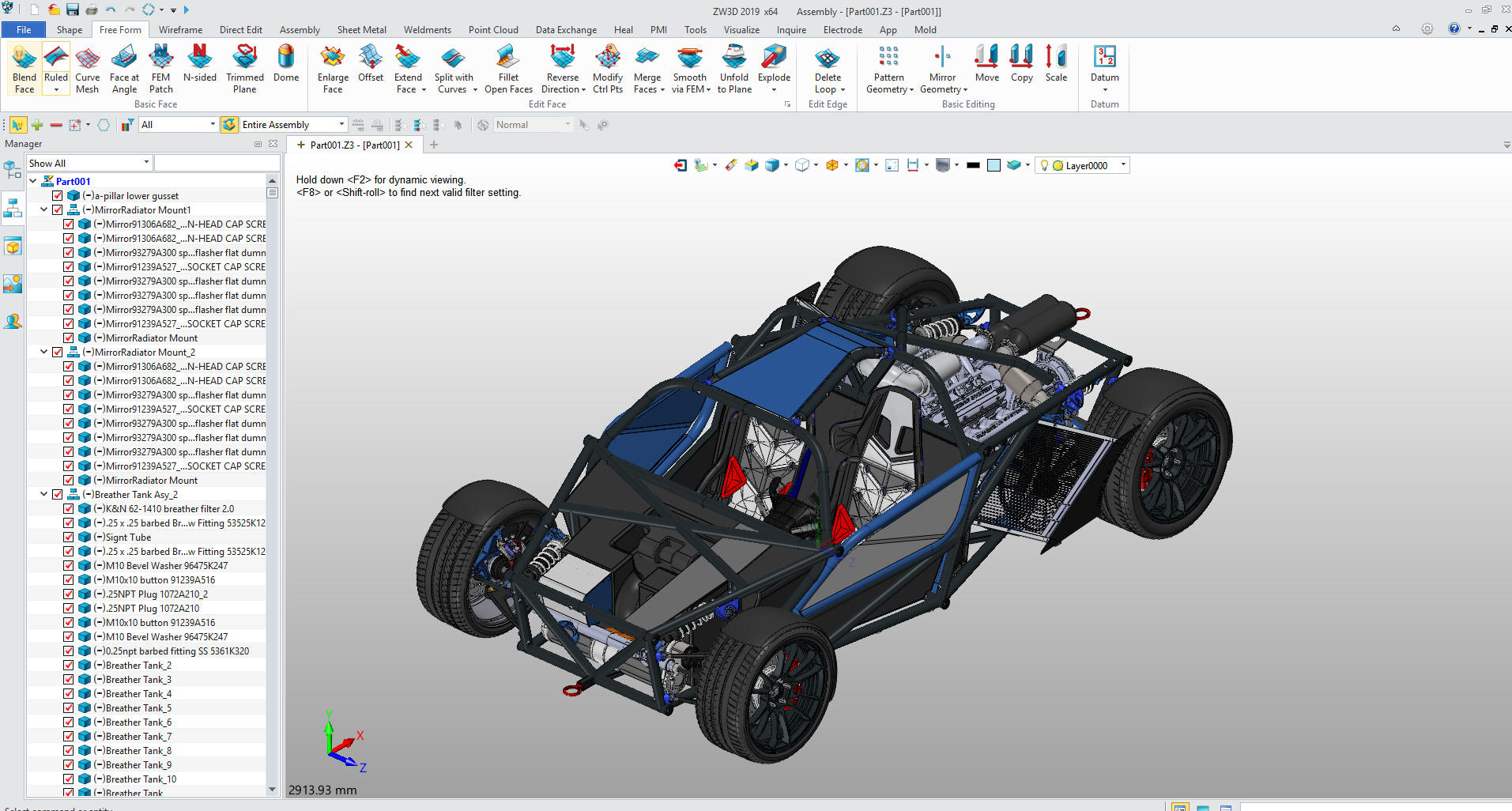 You can download ZW3D and play with this model. Surface model commands are pretty much the same in all surfacing programs. So if you are an experienced surfacing expert you can start designing.

For more information or to download ZW3D

---

IronCAD does not have the surfacing tools to do a body design. Its surfacing tools are mostly to enhance the solid modeling, even though the functions are quite complete.

Again notice the parts and sub-assemblies are defined.



This is the Nucleus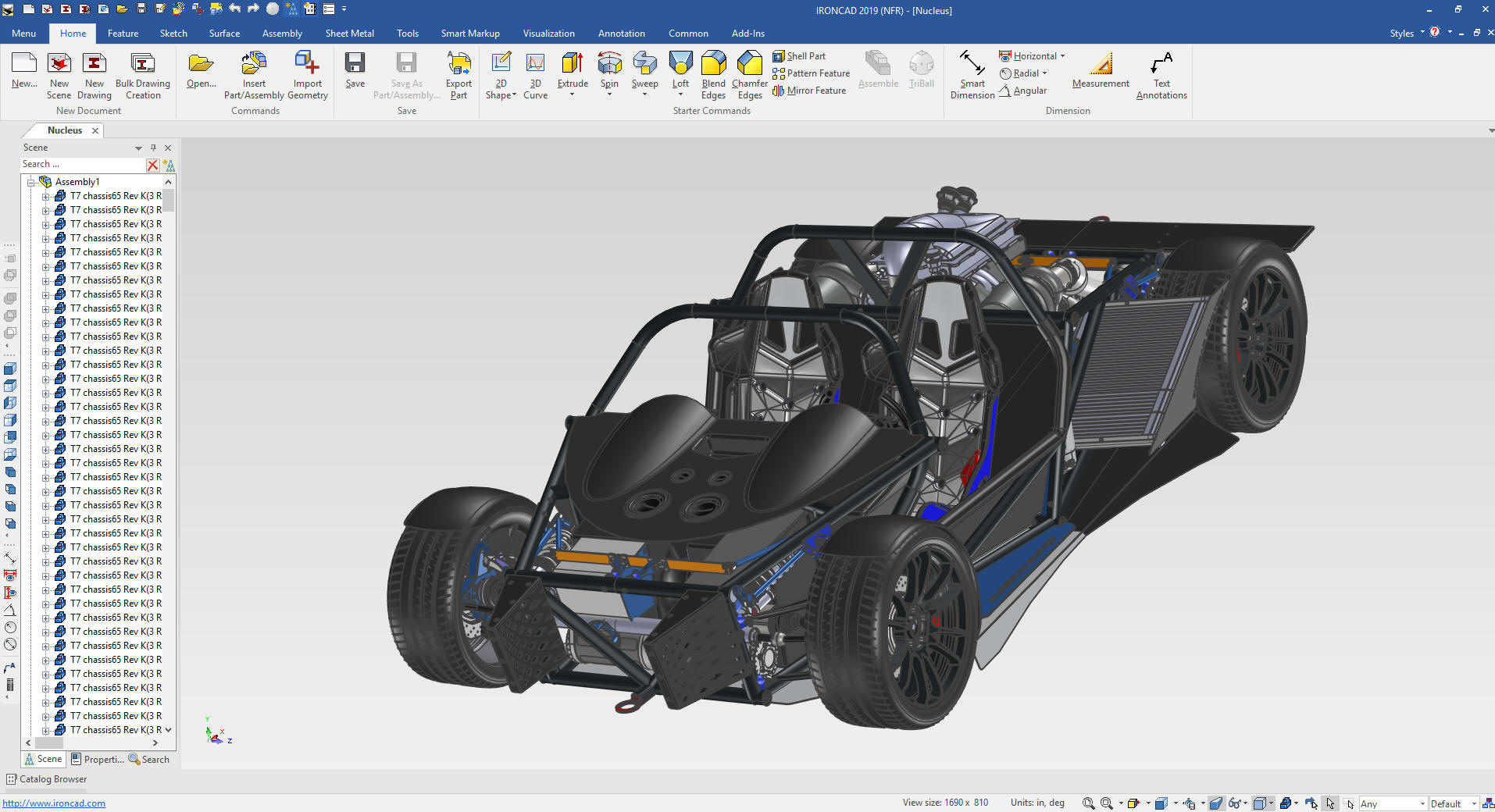 This is the Rookie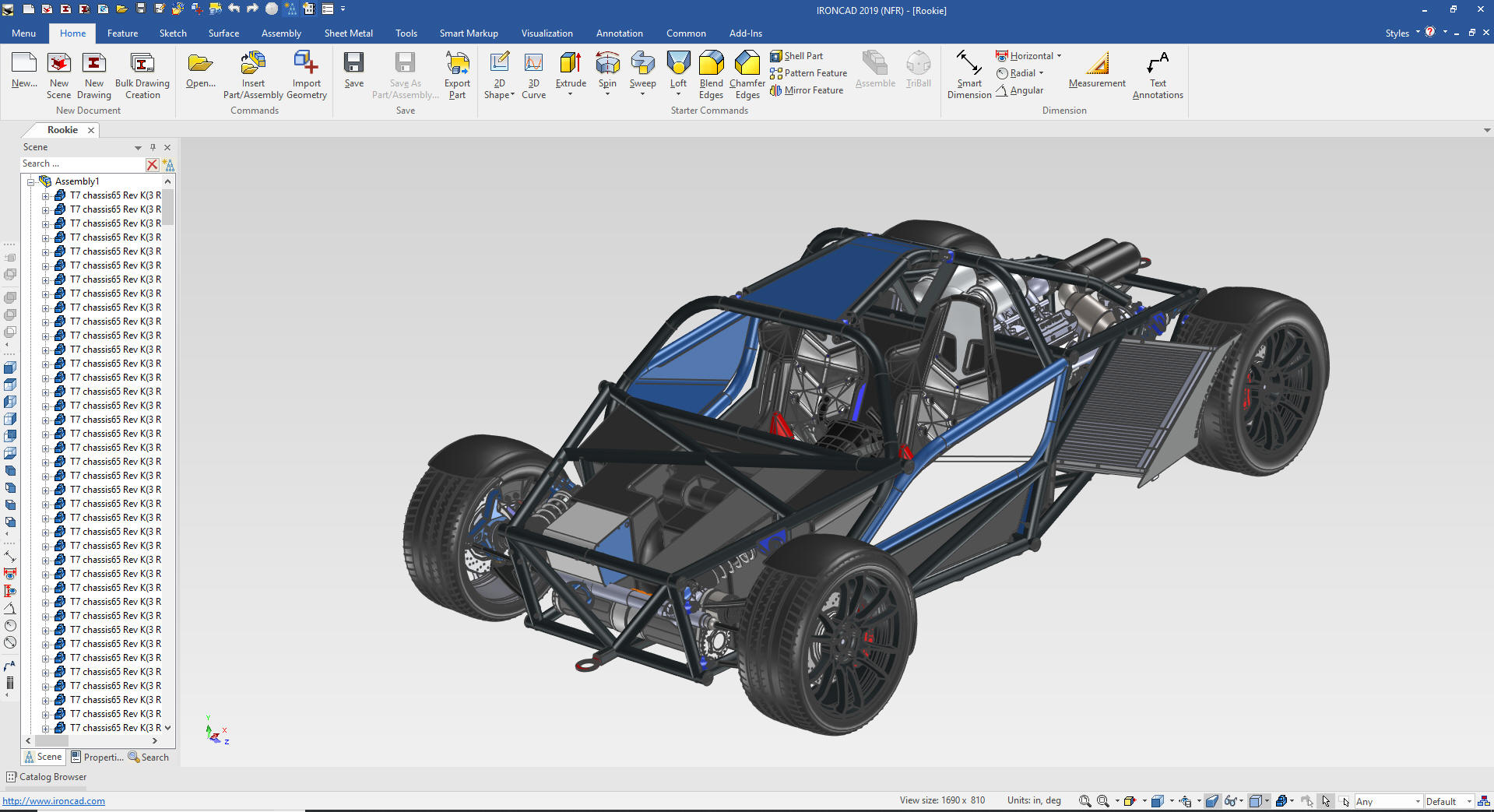 ---
Now, IronCAD is no stranger to Super Cars. Here is the Australian Redback Spyder. The chassis was done in IronCAD. I am not sure what system was used to design the body.



For more information or to Download IronCAD
You can download this model from Onshape or GrabCAD.
Redback Spyder An Australian Supercar
Redback Spyder GrabCAD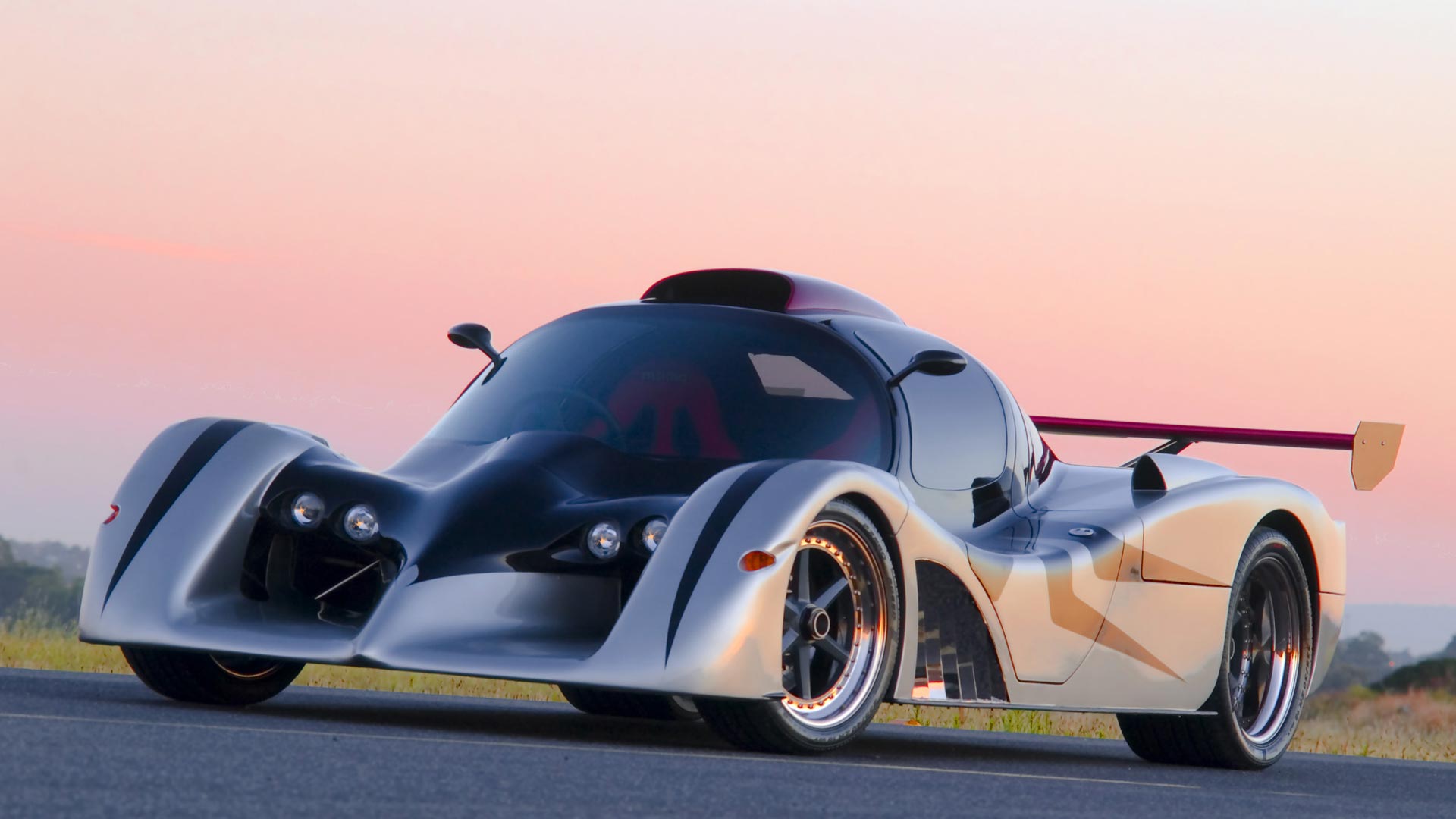 Here is the model in IronCAD.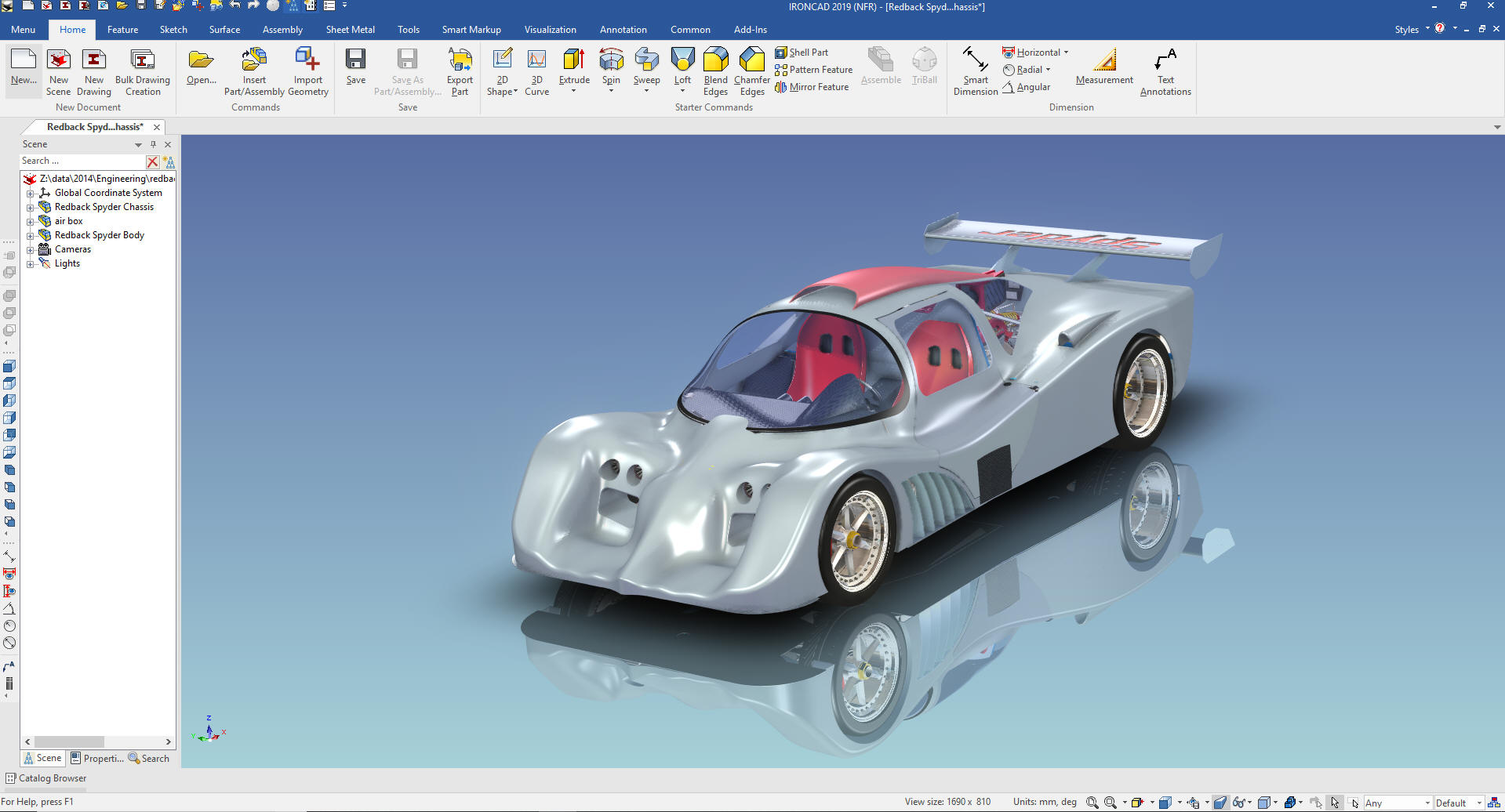 Here is the chassis in IronCAD.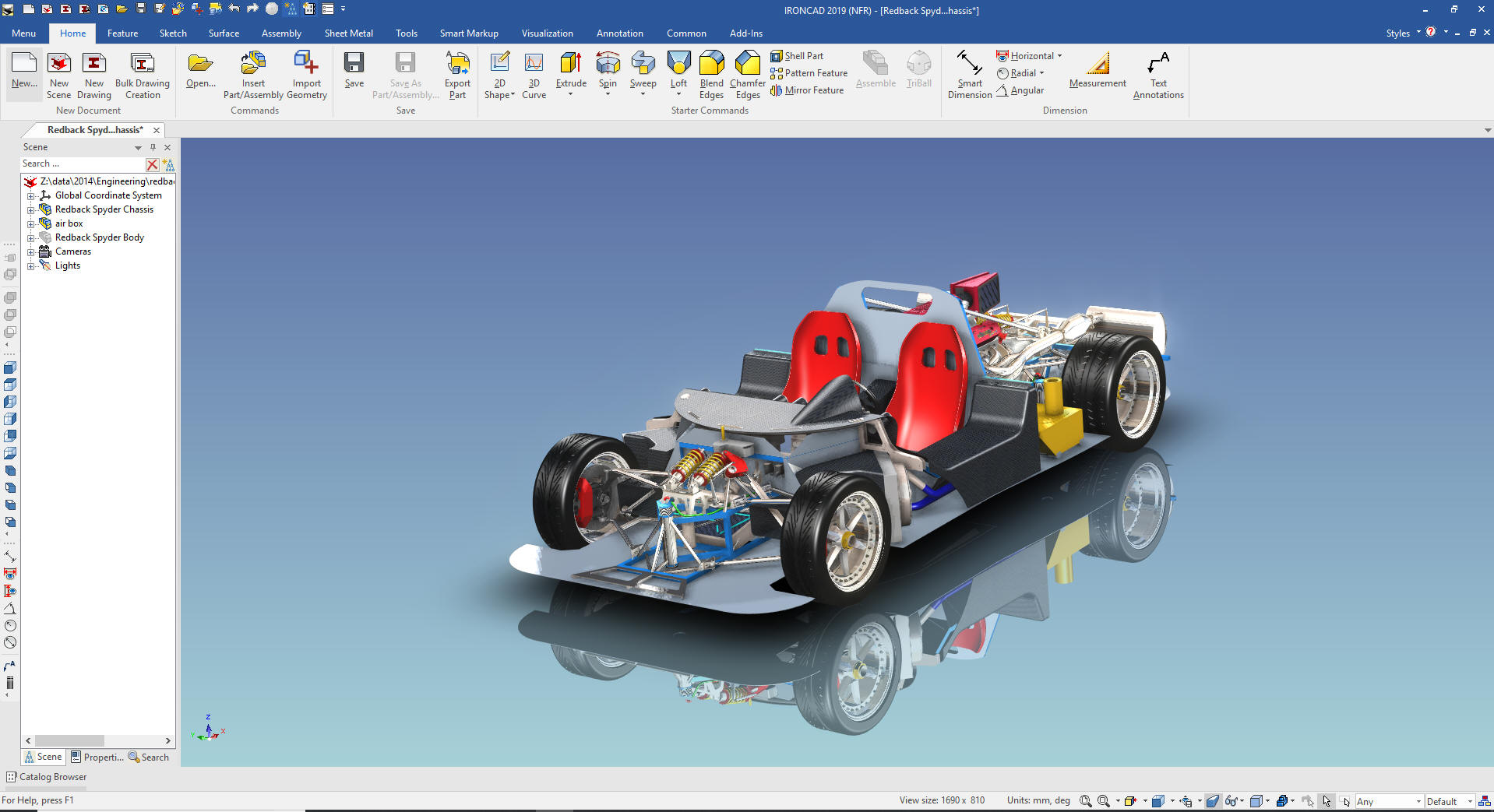 I have also imported it into ZW3D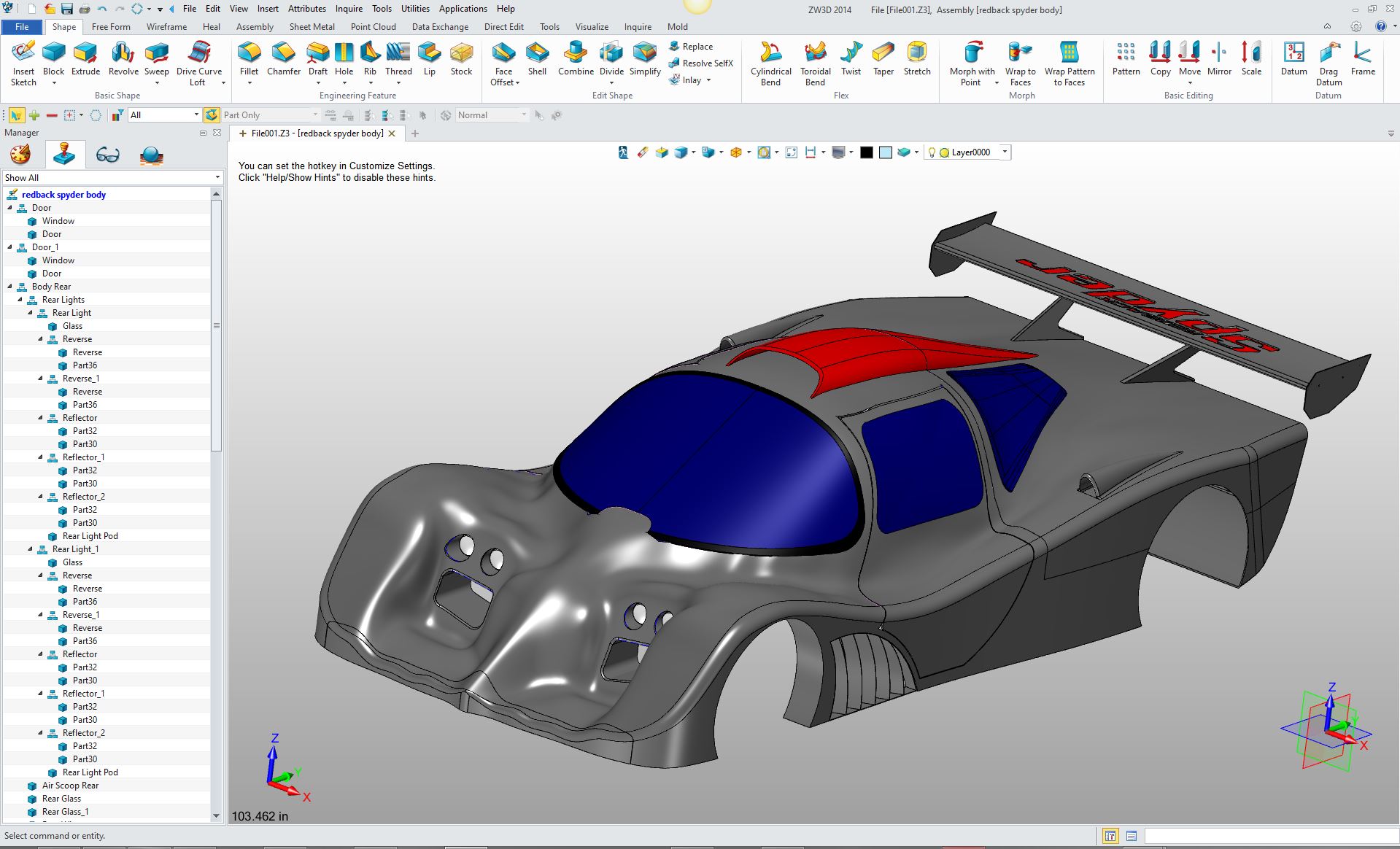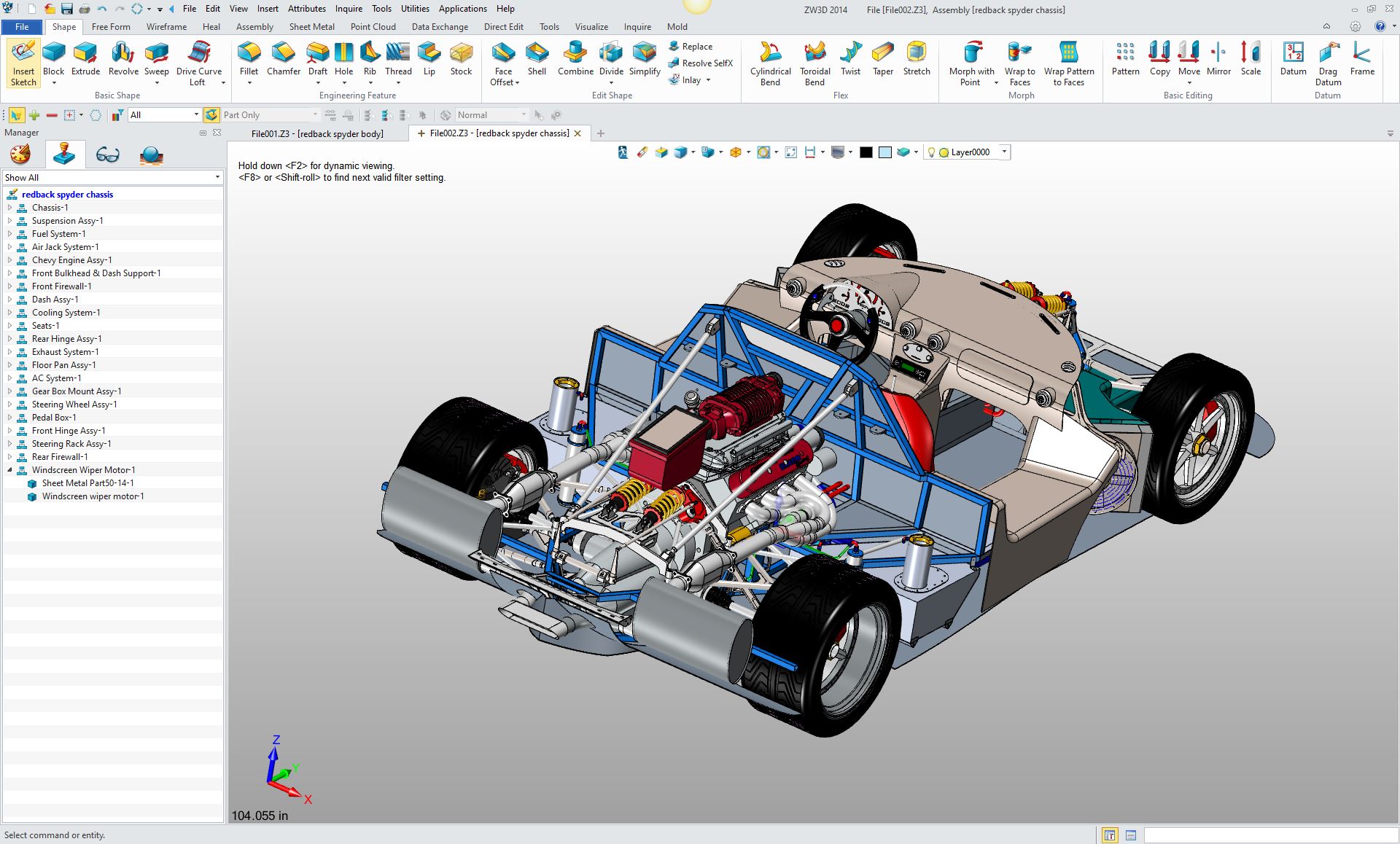 So there you go. Some very cool stuff.
---