One of my IronCAD customers came to me with a problem. He designs keyboards and he imported a keyboard file from another program. I do not know the original software, but it came in as solids, so it really didn't matter. He wanted to make the top of the key face deeper.

I started playing with the models and realized I would have to do this with surfaces. Now, I have ZW3D at my disposal which is a standalone surfacing package and if it was my job, I would just do it there. But I have to provide my IronCAD customer with a viable solution short of selling him a new CAD program. I offer online support through Skype. I am mostly here from 4 am to 4 pm. I know, I know, but sadly the 3D CAD business has become my life.

IronCAD has intermediate surfacing, which means it is there to enhance its incredible solid modeling. I have always had robust hybrid surfacing tools available, so IronCAD was not my first surfacing tool. I have sold 3D CAD for 31 years and basic surfacing is used by about 10% of the industry and only 2 or 3% use advanced surfacing programs. So, it has not been a big market.

Since my customer only had IronCAD I had to utilize the surfacing features in IronCAD to modify the part. I just needed to show him the technique and he could then fix the other keys.

I like this exercise because it is so simple. Many times, we are shown extensive modifications and they rarely relate to us. But this simple modification can be easily understood and shows value of having surfacing available.

Here is the original model in mm. The first step is to heal the brep.

Note: In solid modeling and computer-aided design, boundary representation—often abbreviated as B-rep or BREP—is a method for representing shapes using the limits. A solid is represented as a collection of connected surface elements, the boundary between solid and non-solid.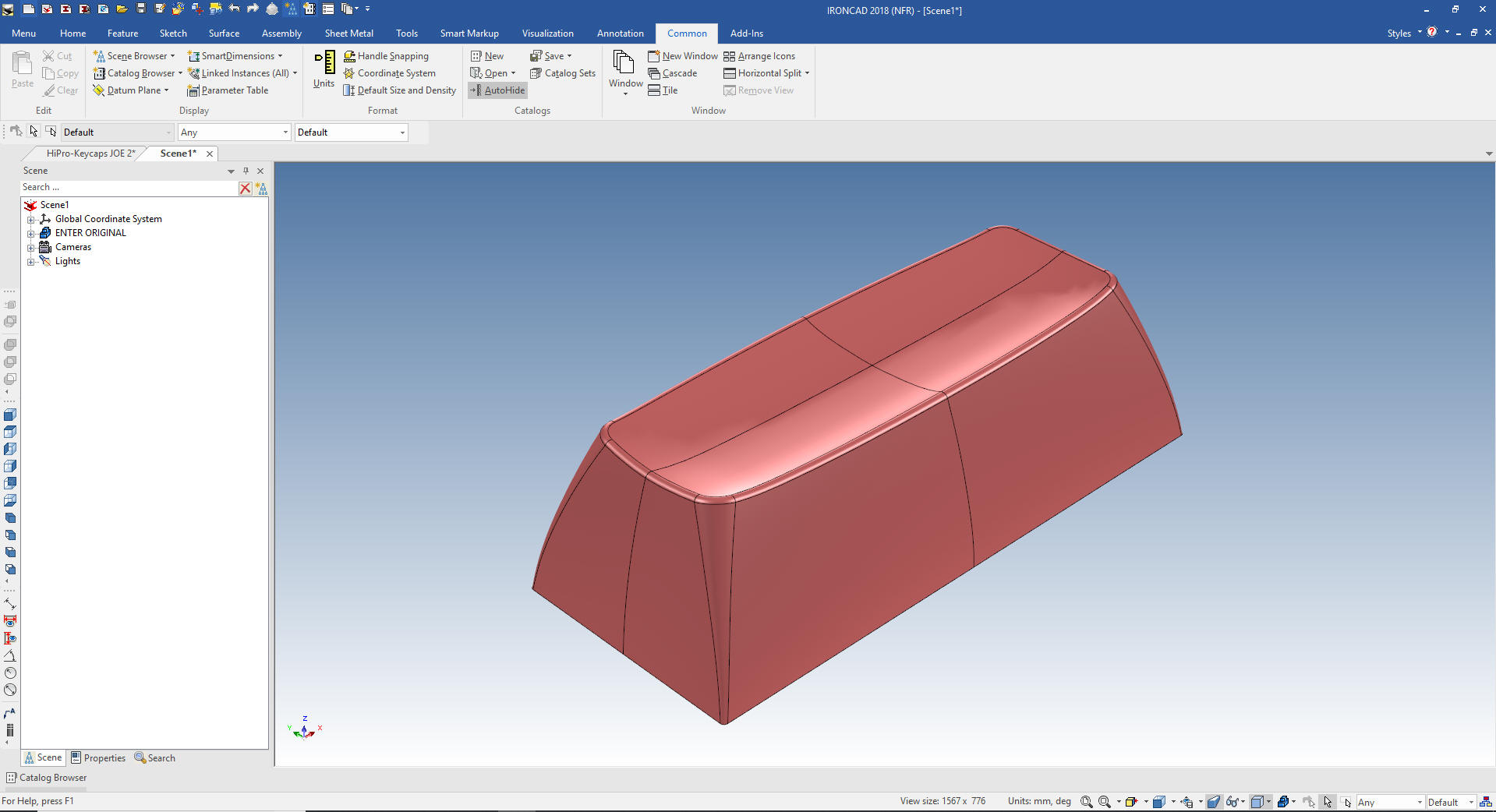 The first thing I did was to see if I could turn the top blends into an editable feature. IronCAD has two solid modeling kernels, one of the things you learn if you have a problem is to change Kernels. I was in ACIS and changed to Parasolid. Neither kernel would let me would allow the change.

The next step was to delete the blends. That didn't work in either kernel.

Showing differences in Import Using Dual Kernel and Repair options.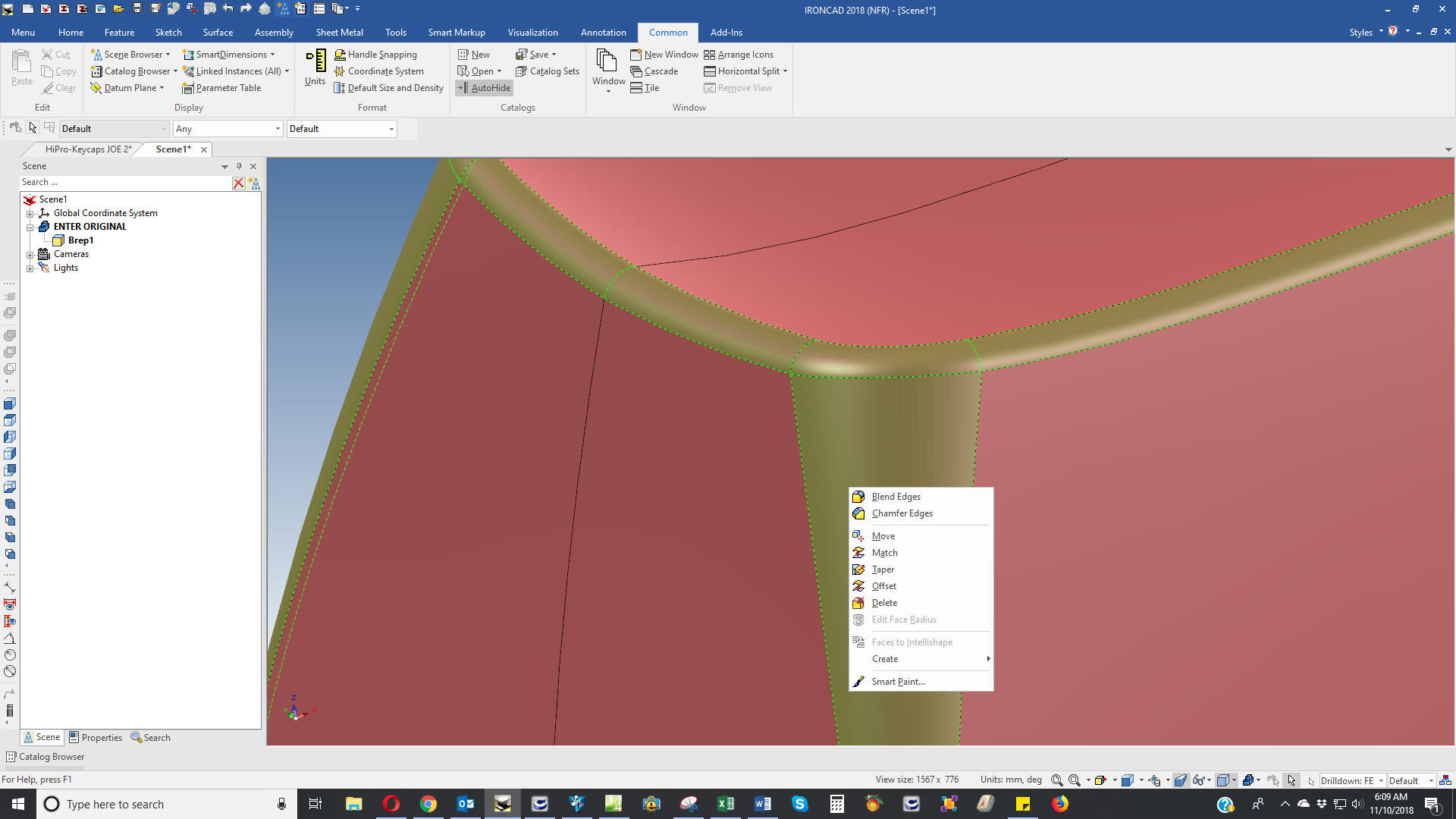 The next step would be to split the part. We dragged and dropped a hole block on half of the key. We then tried to delete the blend again and failed. I have done many of these kinds of problems and understanding the basics of blends, I drag and drop another hole block on half of the half. You can see it is made up of the basic part plus two hole blocks.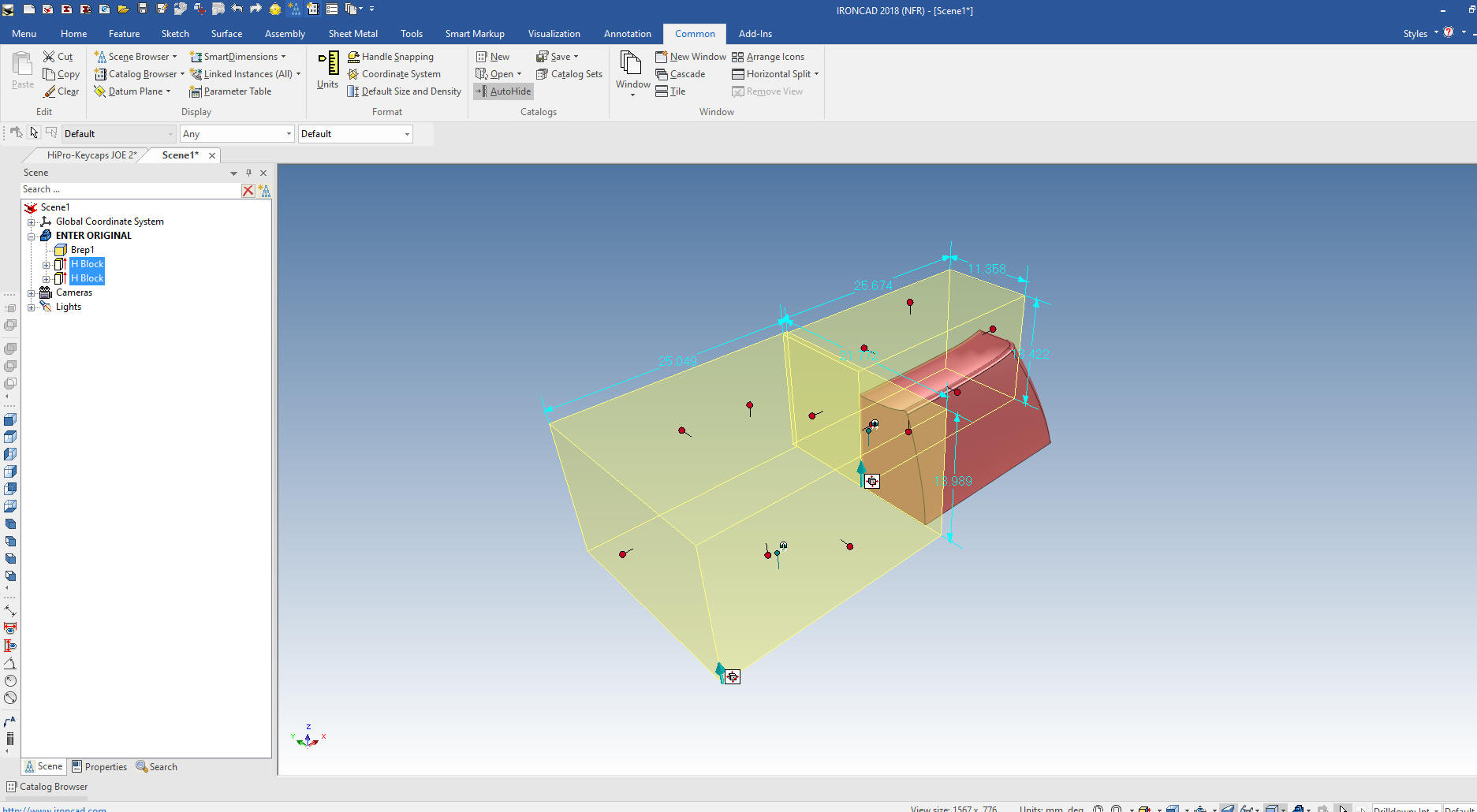 Again we will attempt to delete the blends. Again we fail. We have another couple of cards up our sleeve. I will combine the features which will combine the features into one brep and heal.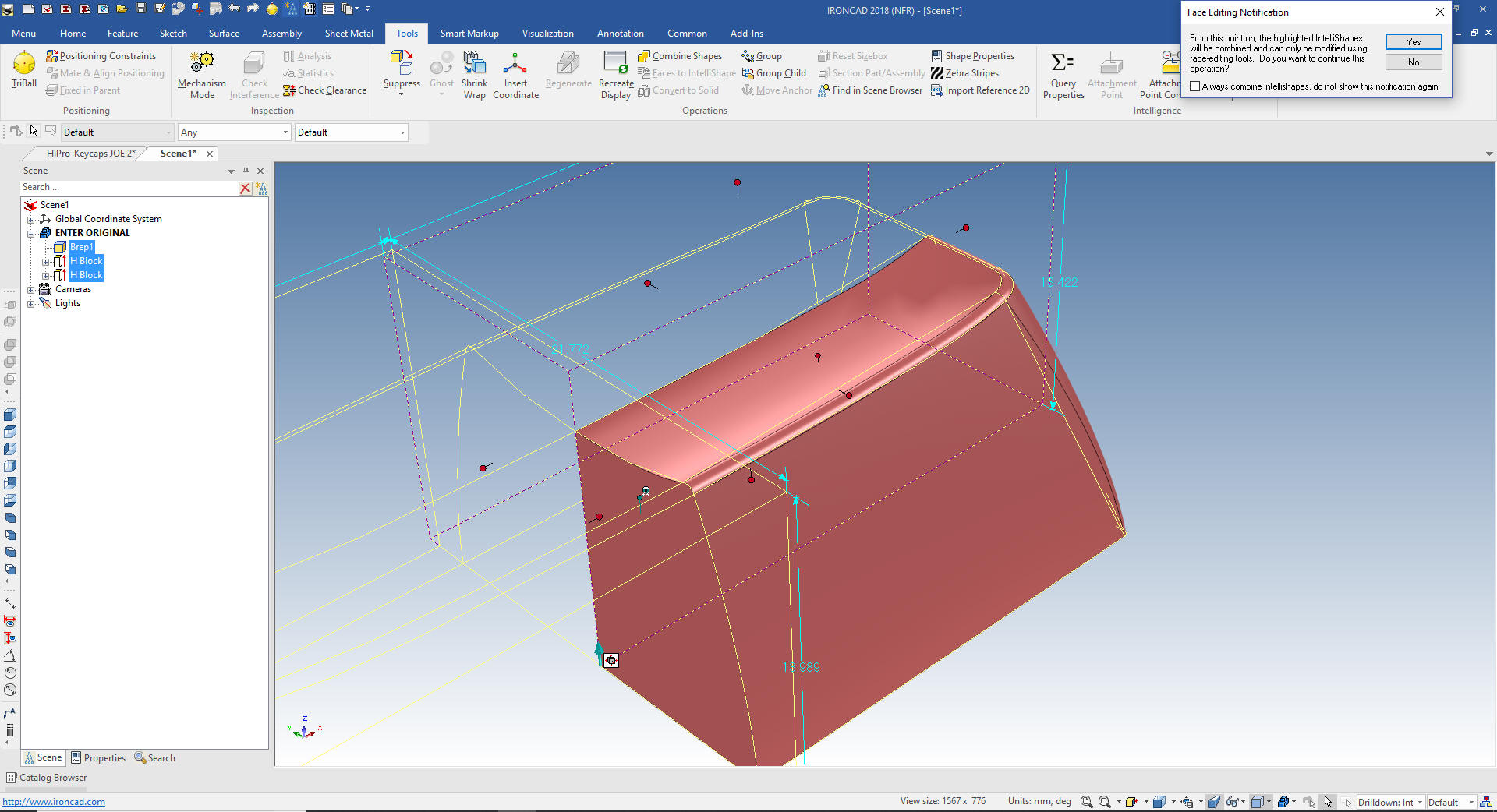 You can see we have one brep to work with.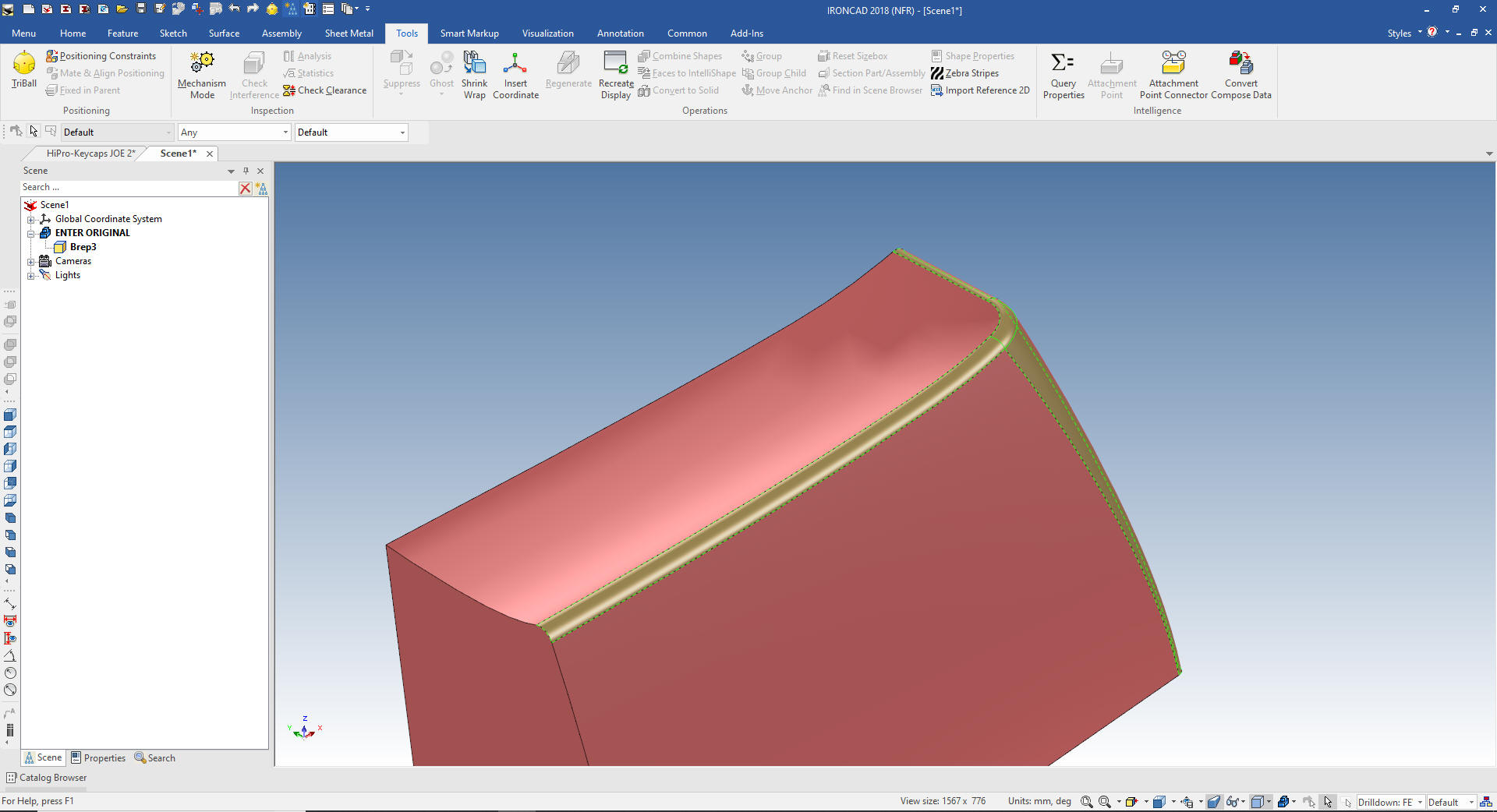 And this time it was a success. This was a particular stubborn blend, probably had something to do with the variable blend.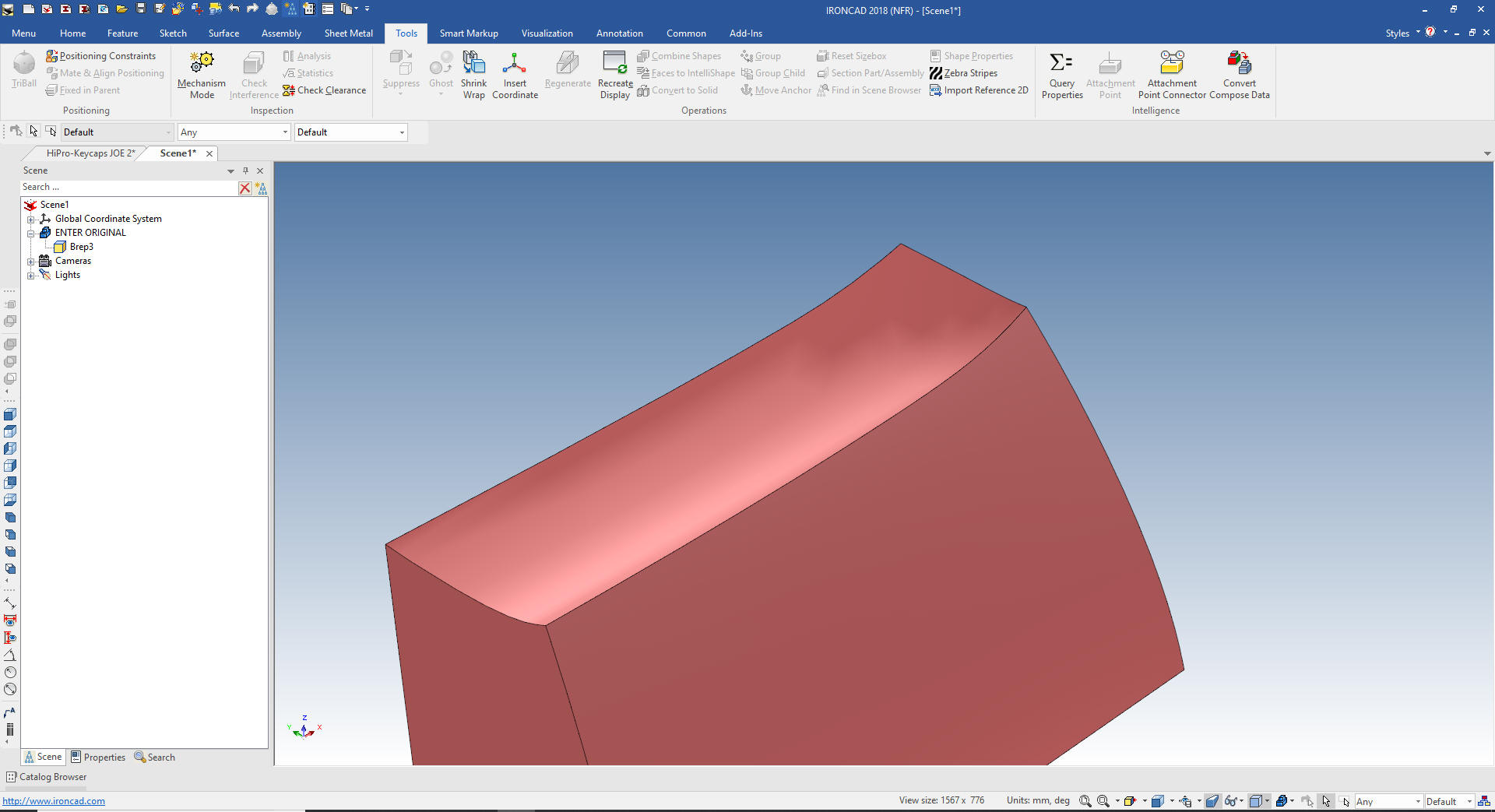 Now we want to get our part back to the original shape so, using the triball, we mirror copy. You can see we have 3 new shapes. IronCAD is a true single model environment and can have shapes, parts and assemblies coexist in a single file.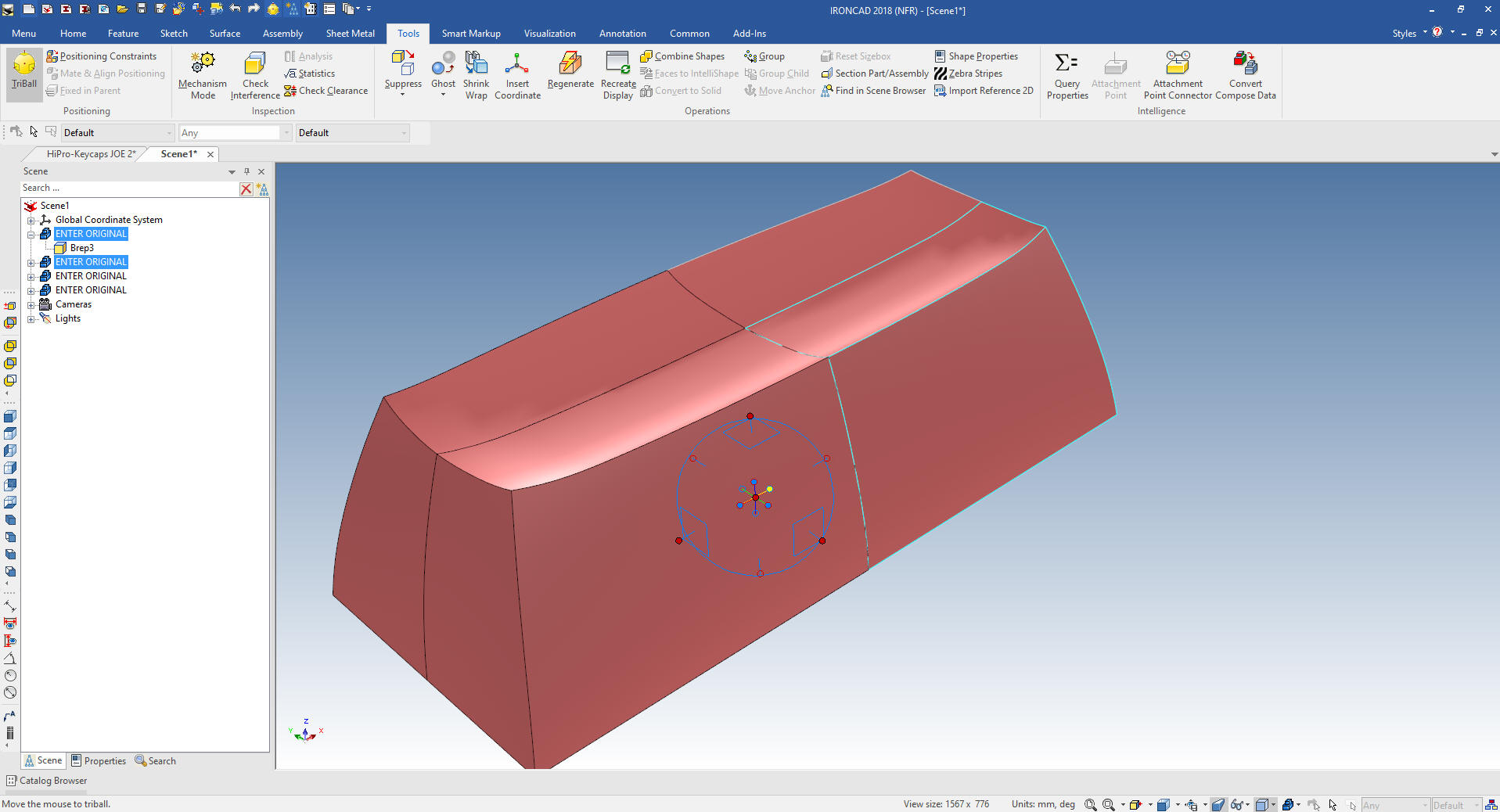 We will now Boolean join the shapes in to one shape and combine all of the features into one brep. IronCAD has different levels of operation, assembly is yellow, part is blue, feature is yellow and face is green. You can see this is now a single part not only by the single part in the scene browser but the edges of the part are blue. This makes modifying faces, shapes, parts and assemblies much easier. Very, clever these IronCAD folks.

Note: IronCAD calls the work space the "Scene". IronCAD was released as the graphics design program, Trispectives, in 1995. And has much of the basic graphic design features such as integrated realistic rendering, animation and more. It offers much more of a flexible design package as compared to the mechanically only focused Solidworks clones.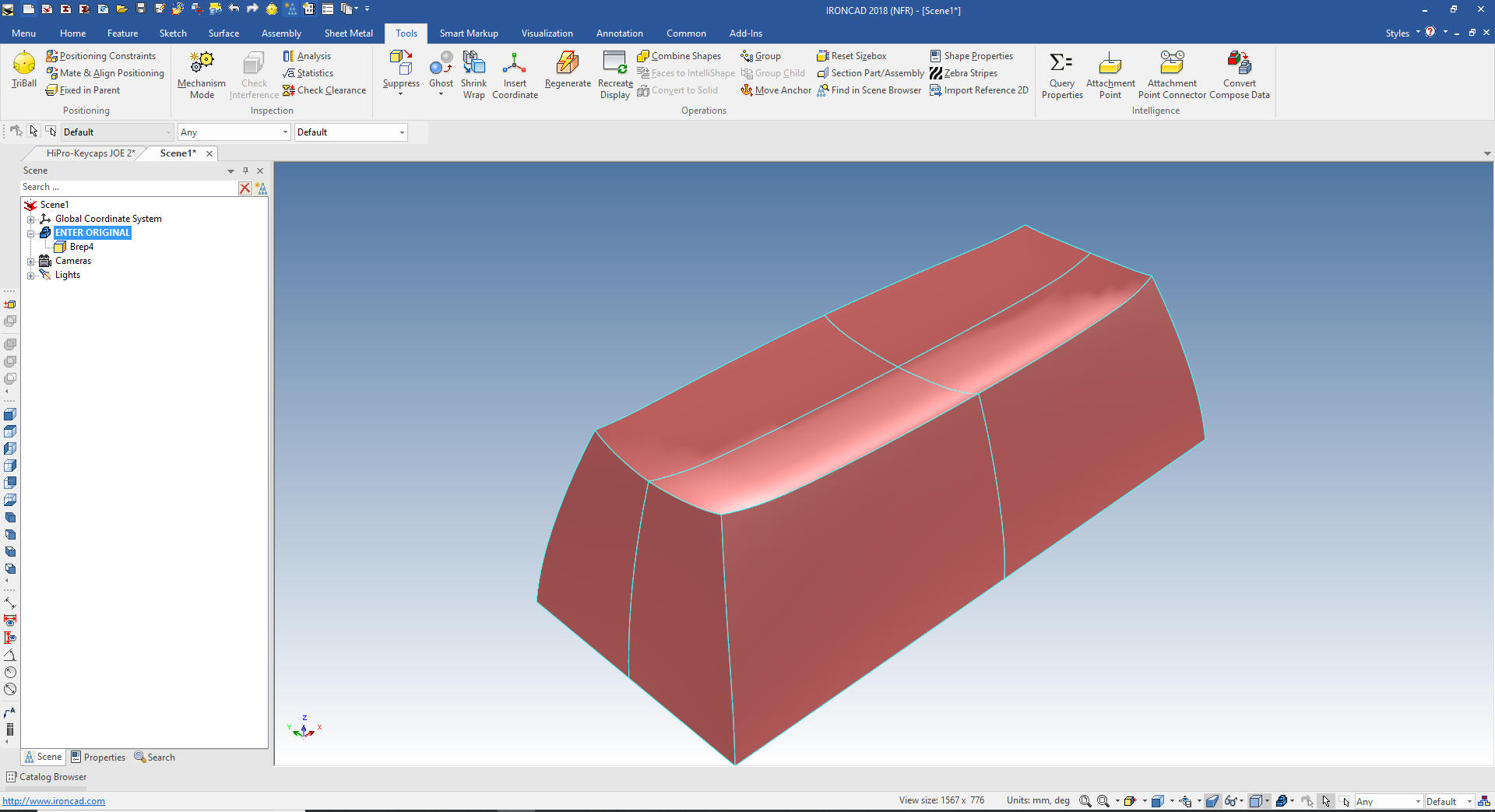 To get ready for the new surface we first have to create the sketch to establish the new depth of the surface. We will create a standalone sketch on the bottom face and use the triball to reorient it. We do this at this stage to use the existing face as a reference.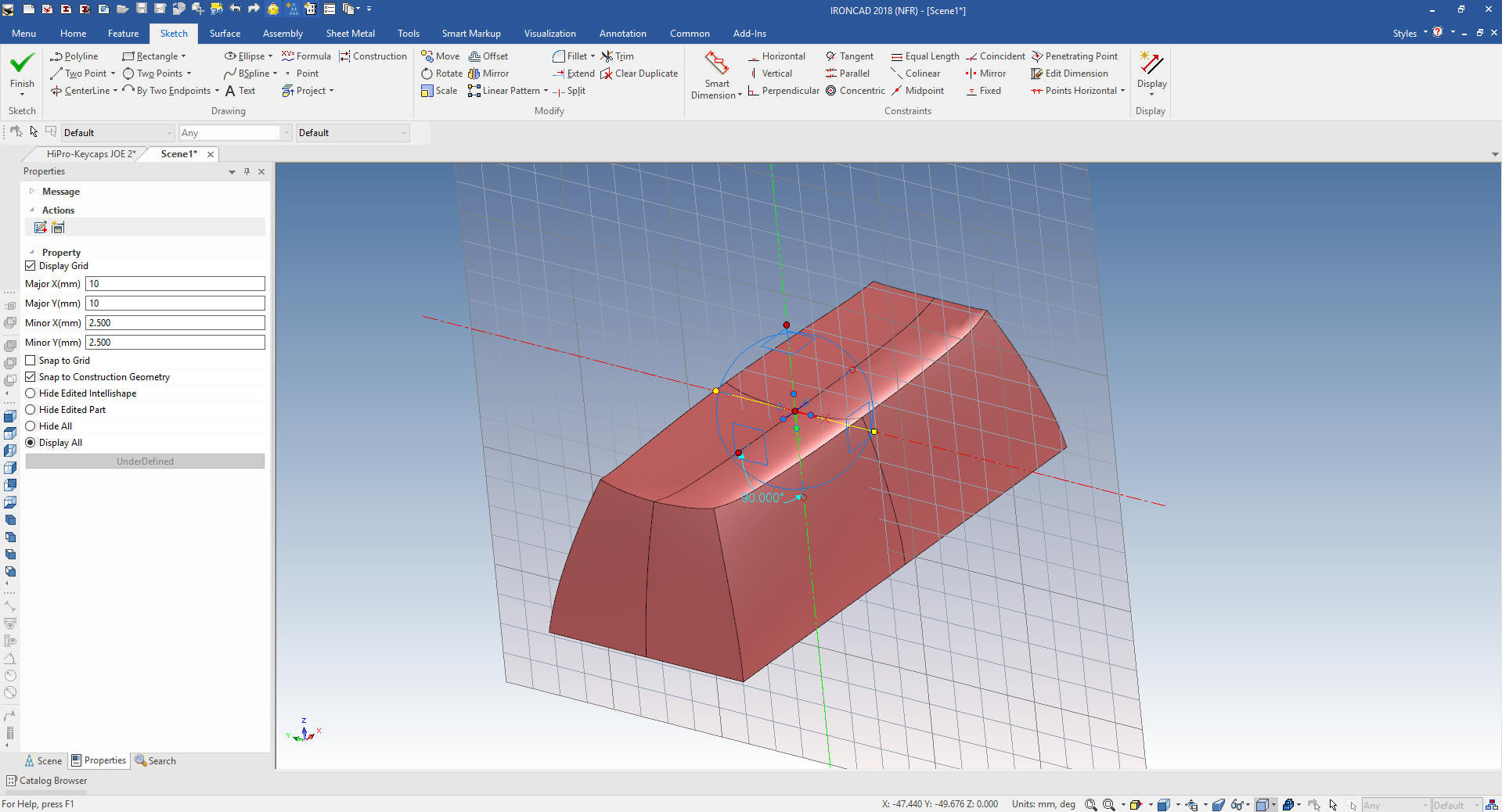 We project the top edge and use it to create an arbitrary 1 mm vertical line then create the 3 point arc that will establish our new basis for the top face. This exercise was just to show my IronCAD customer how to modify the parts.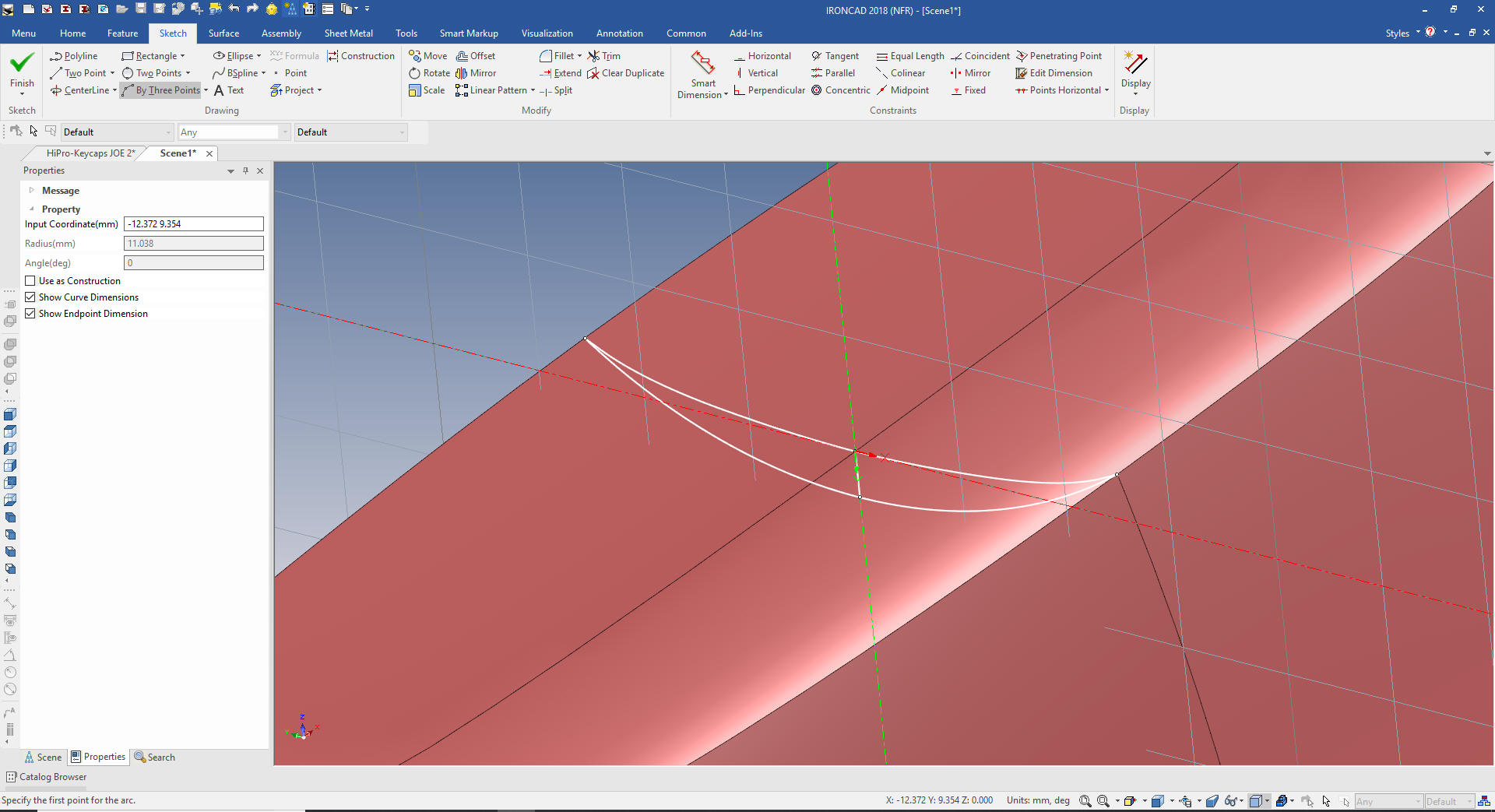 We can now delete the existing surface. You can see we have selected "Generate as Surface" to only affect the selected faces. You can see on the left the part is now made up of faces.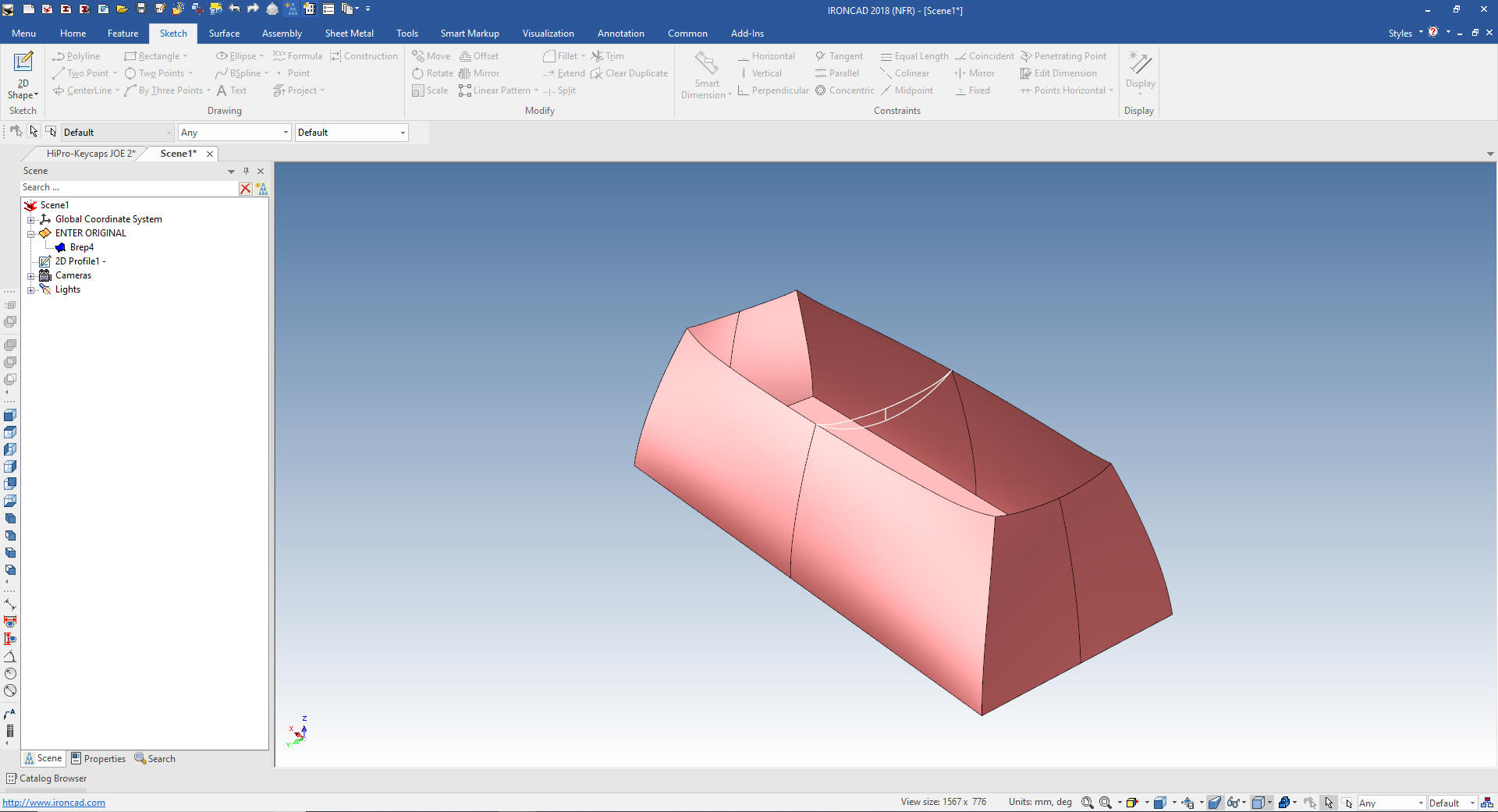 We have to merge the four curves that will to used to make our new surface.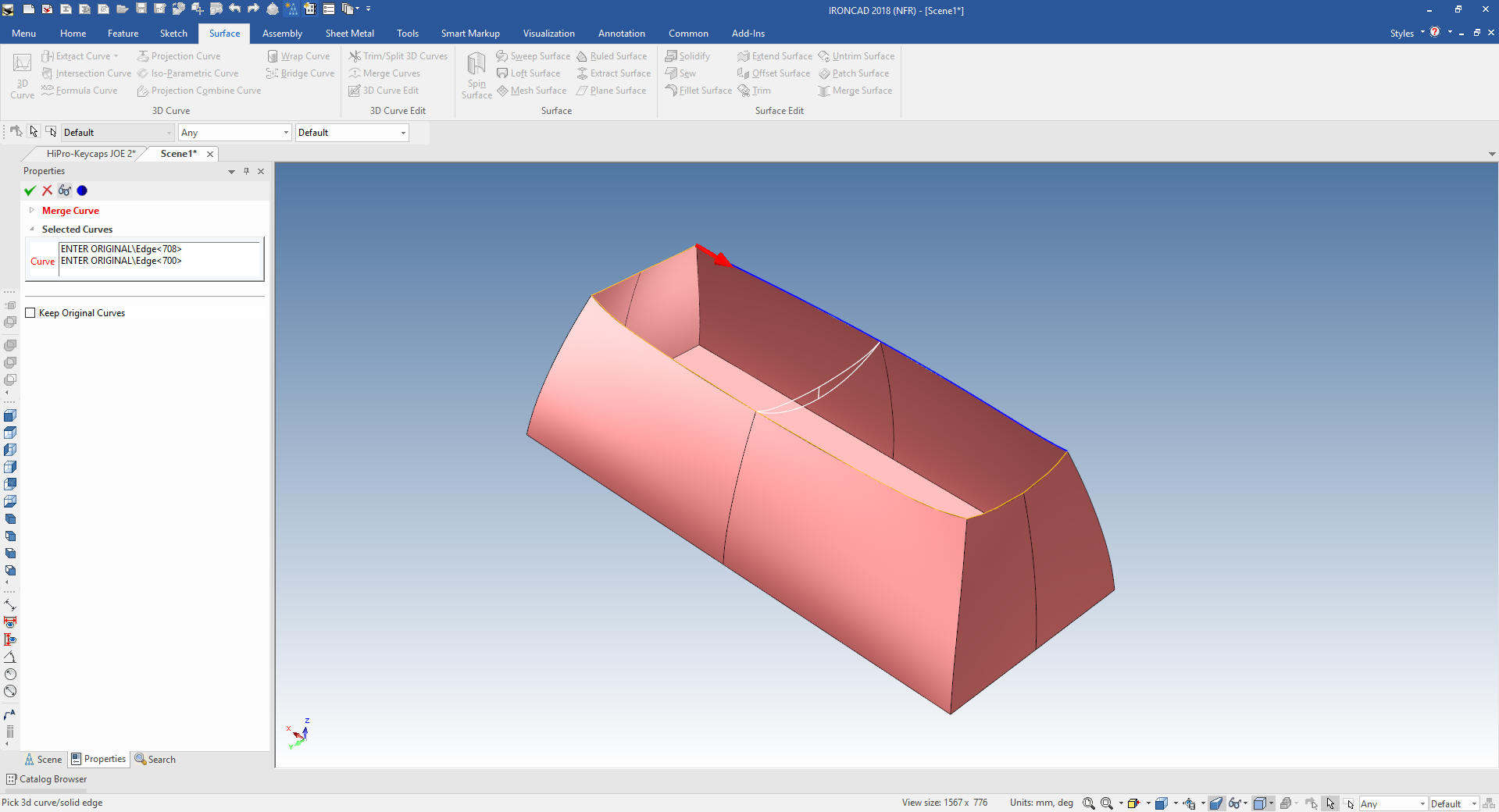 Now can create the new top surface using the loft surface command, using three loft curves and two guide curves.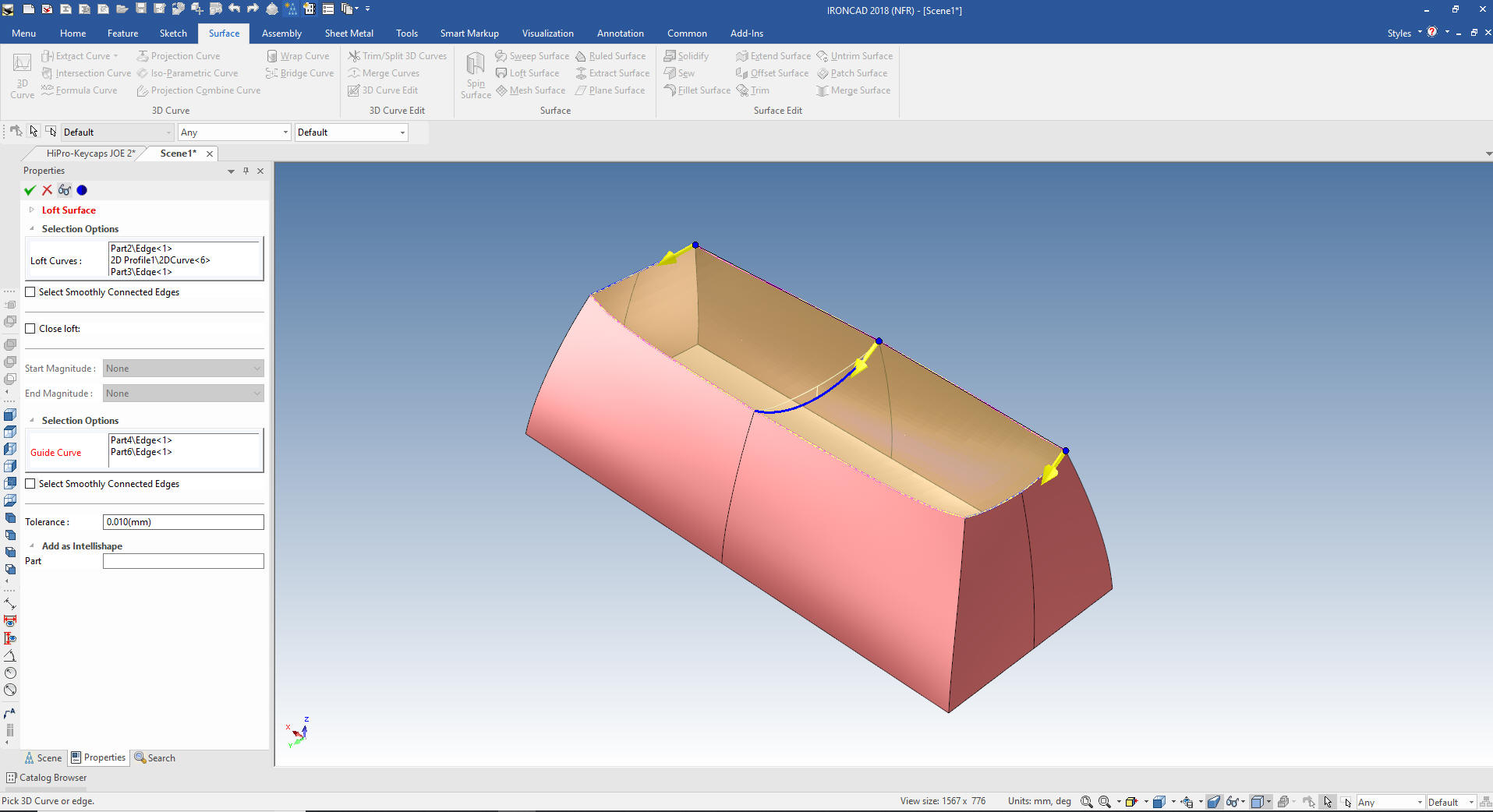 We select okay and we now have our new surface.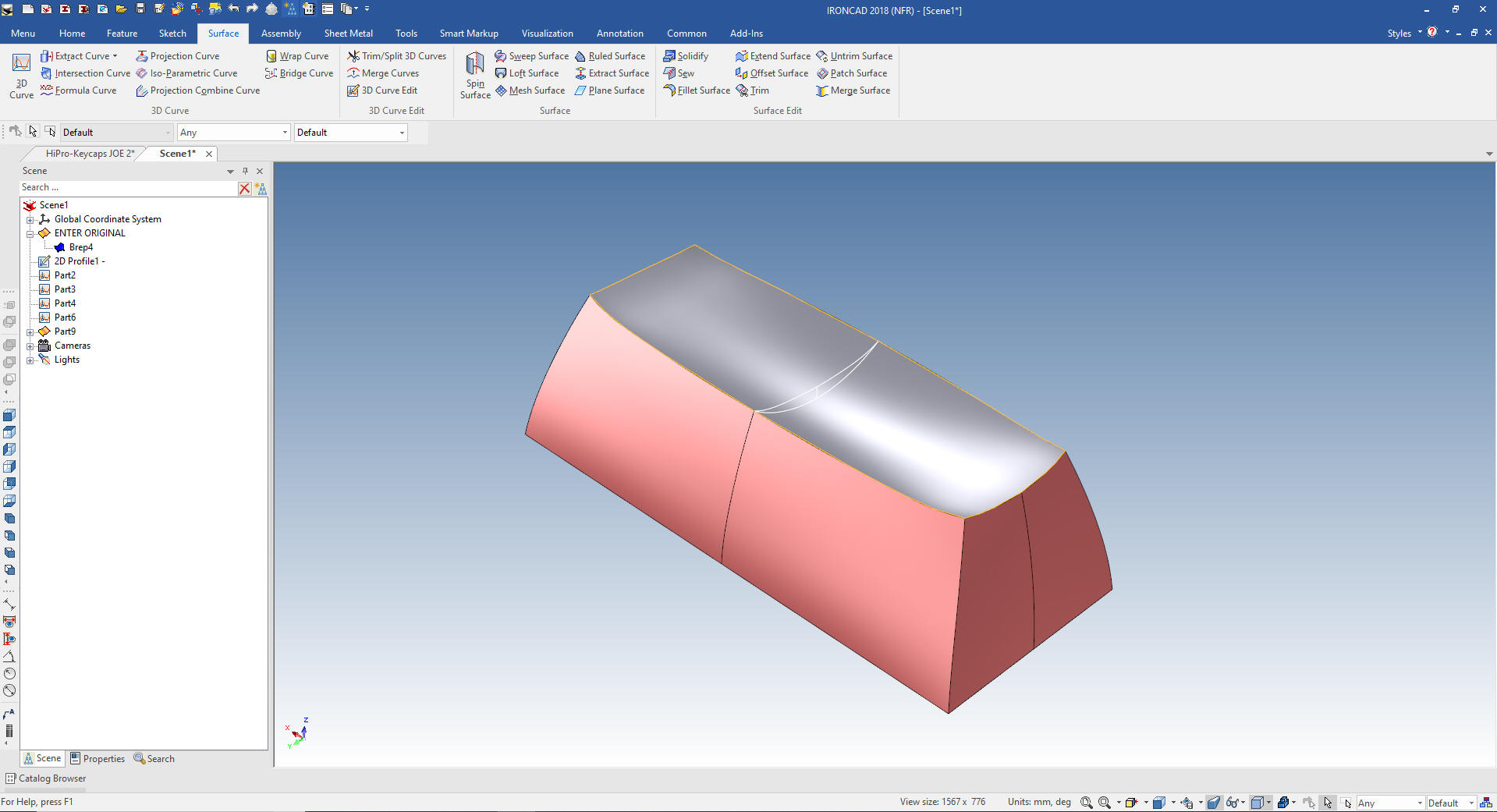 We now have to solidify it to add the blends.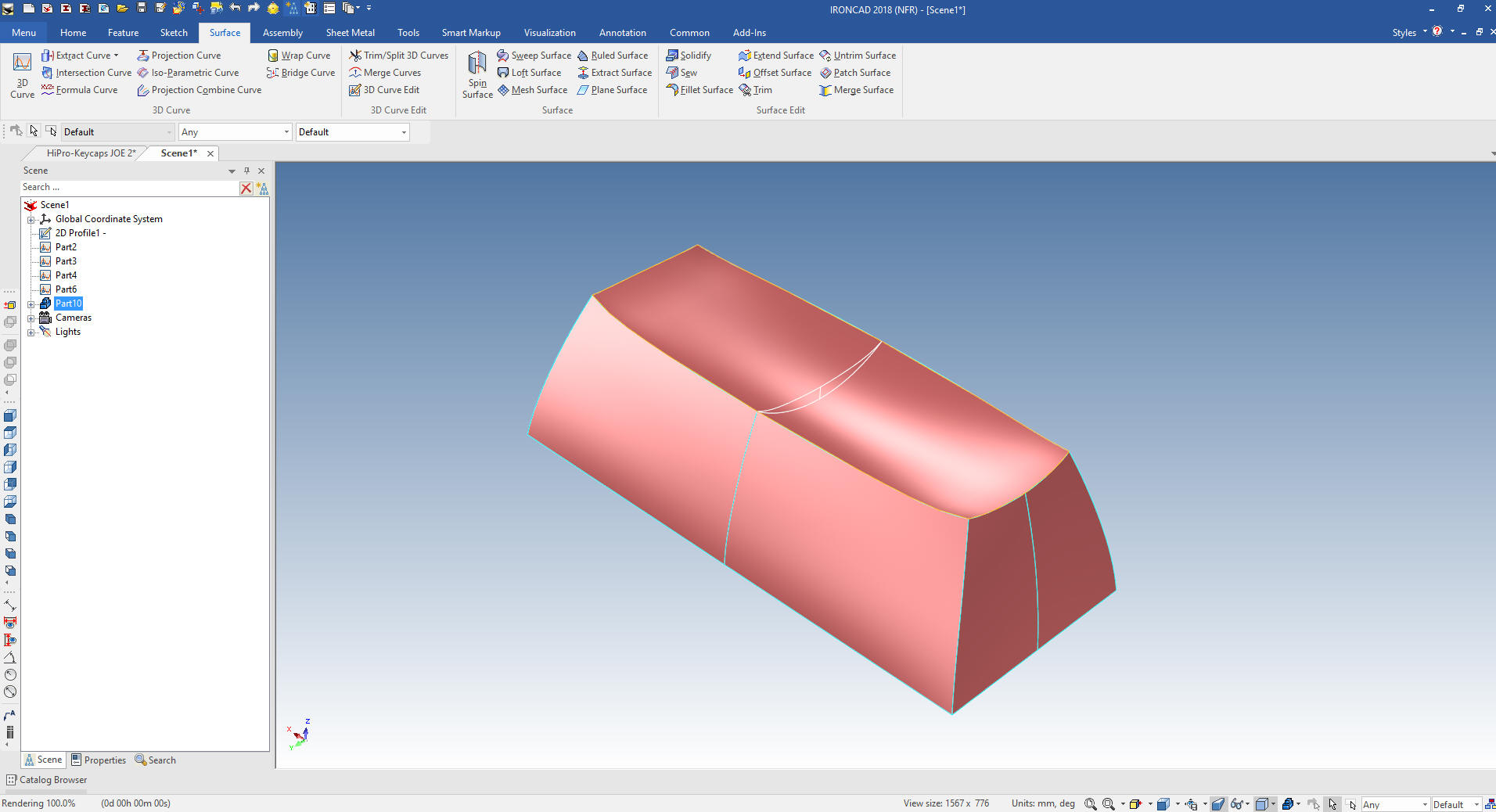 You can see we now have a solid part. We will suppress the construction entities and start with the variable blend. The base blend is .3 mm and the top is 2 mm.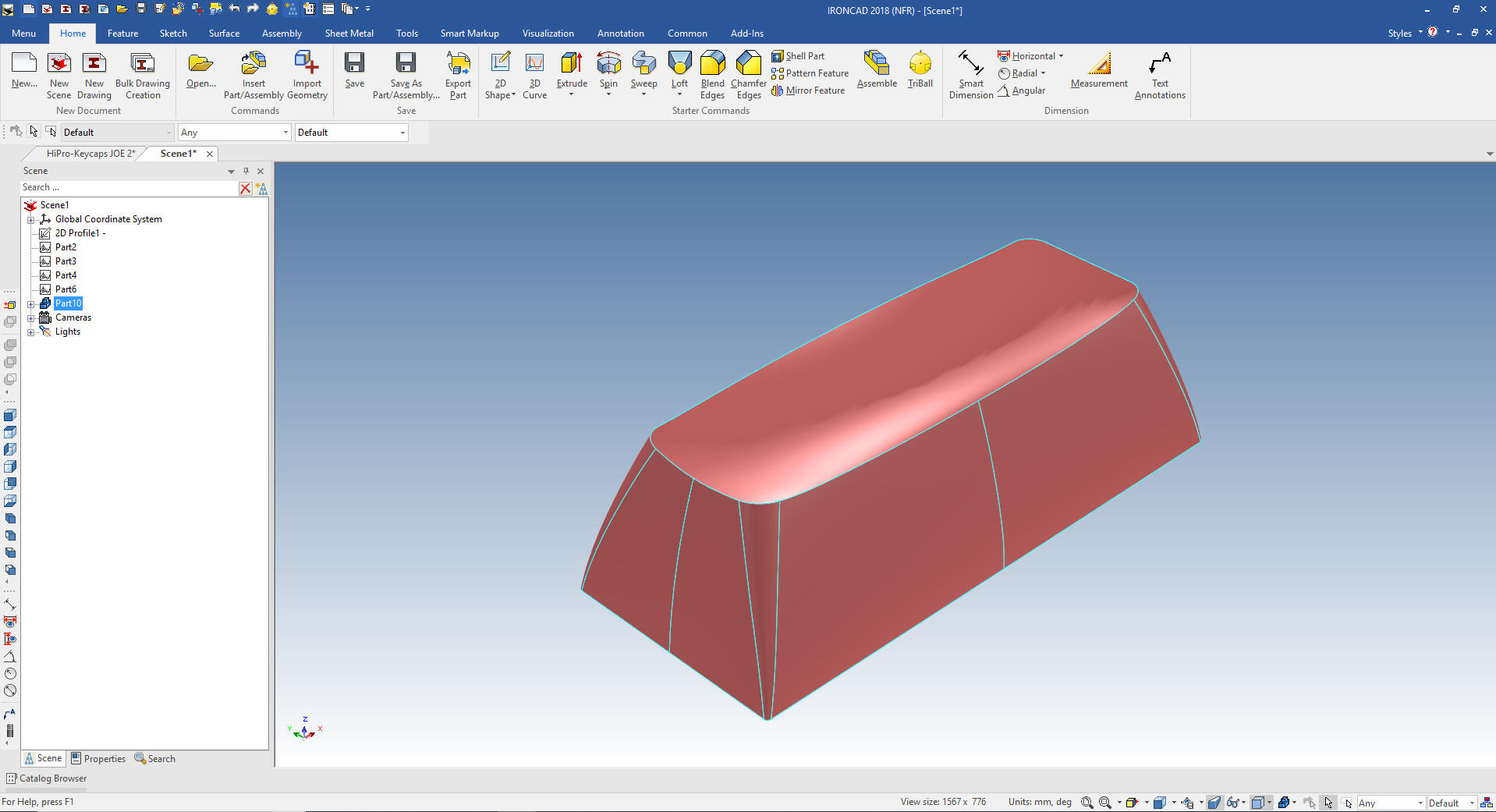 Now for the top blend of .4.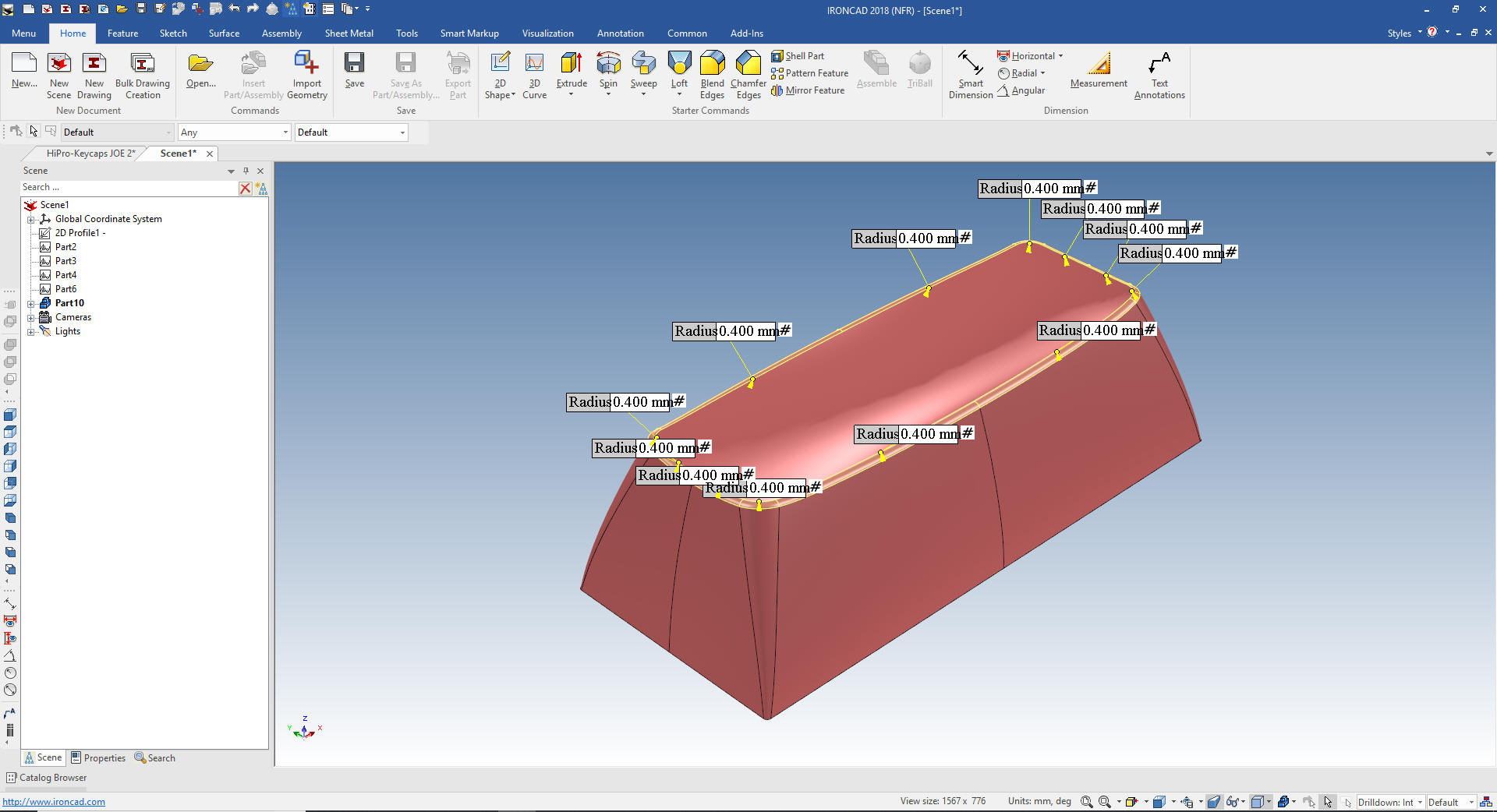 The last step is to shell the part.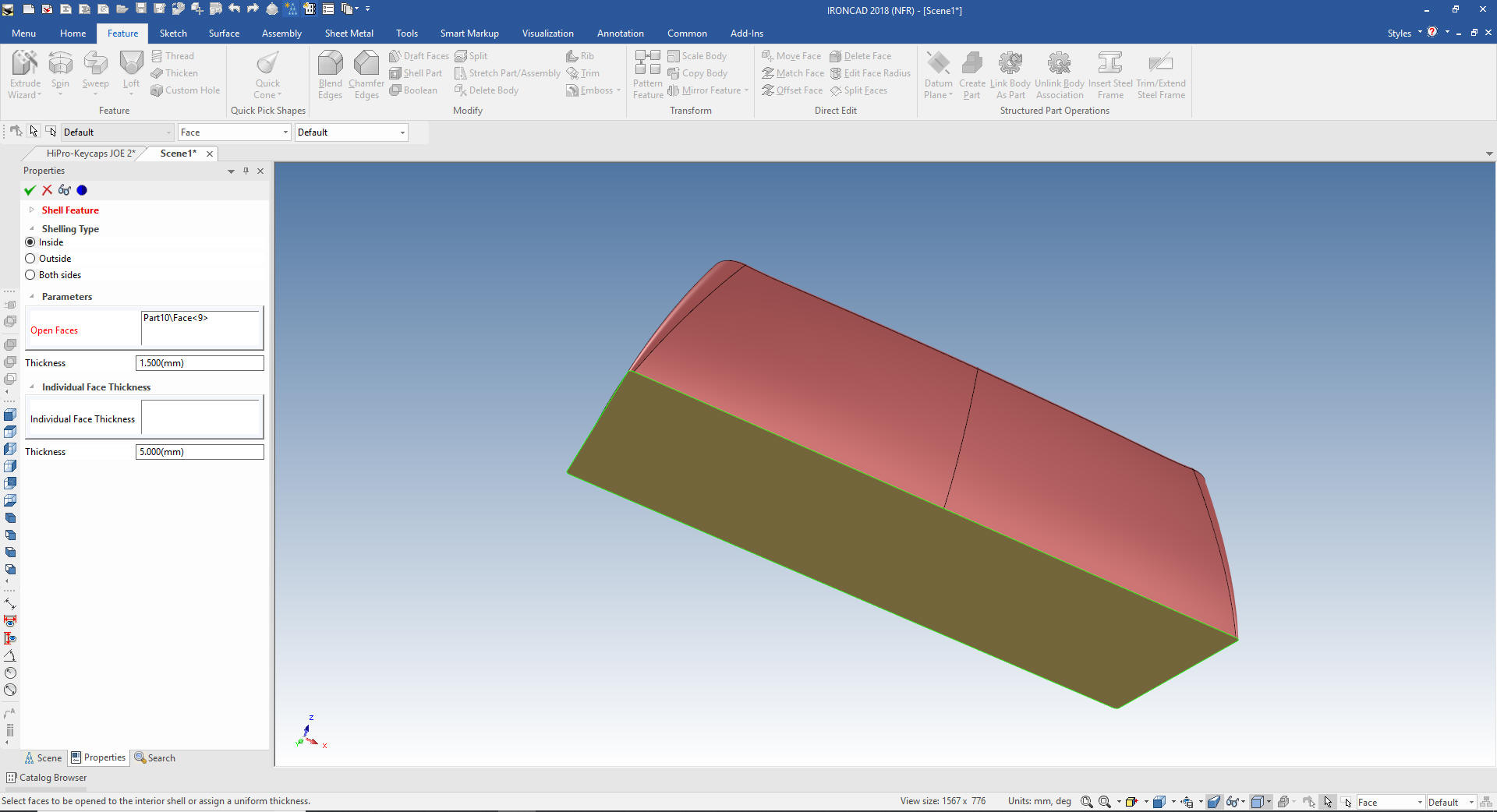 We shell the part 1.5 mm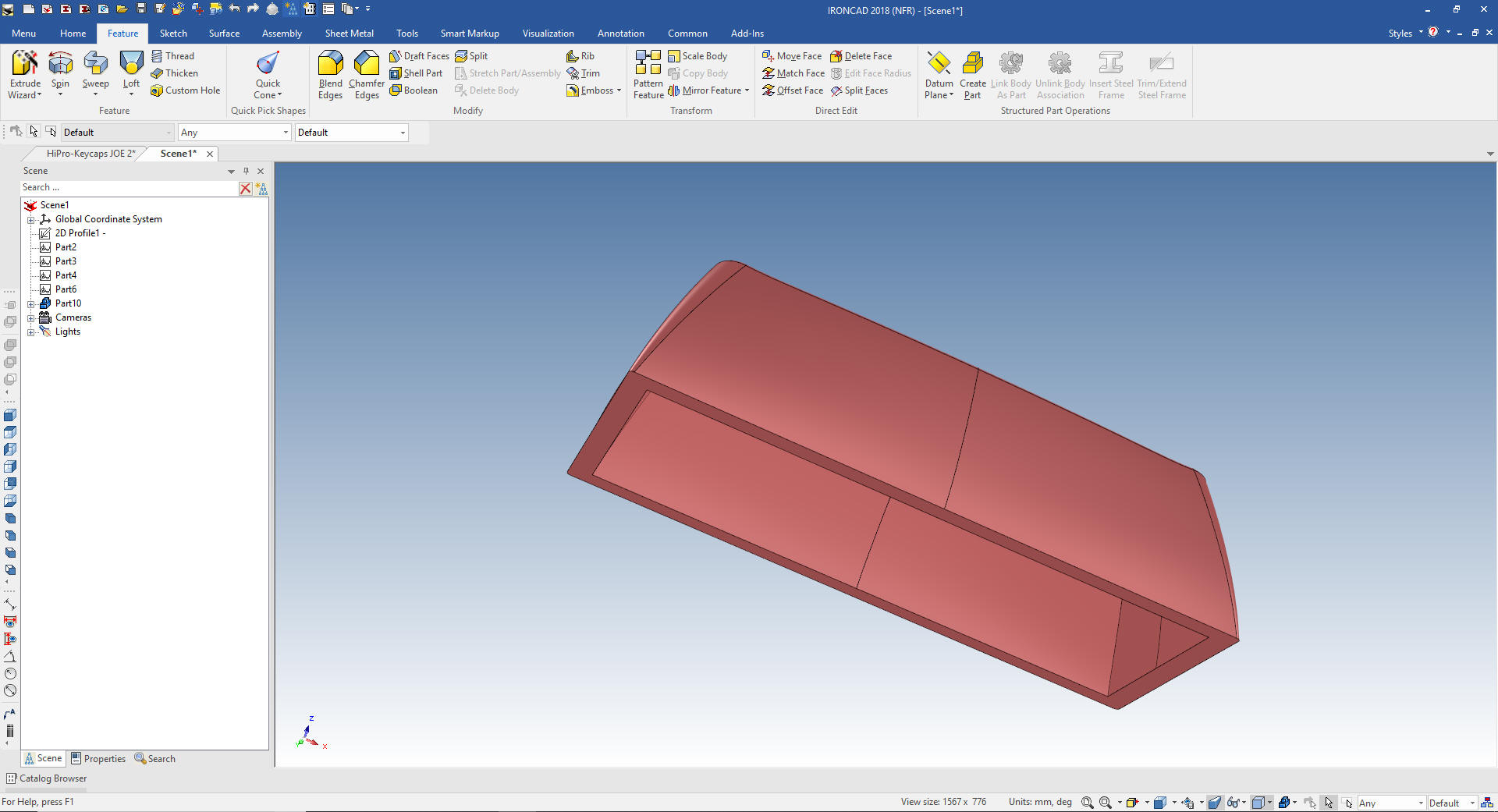 I reimport the original key and shell it and you can see that the key shape is basically identical.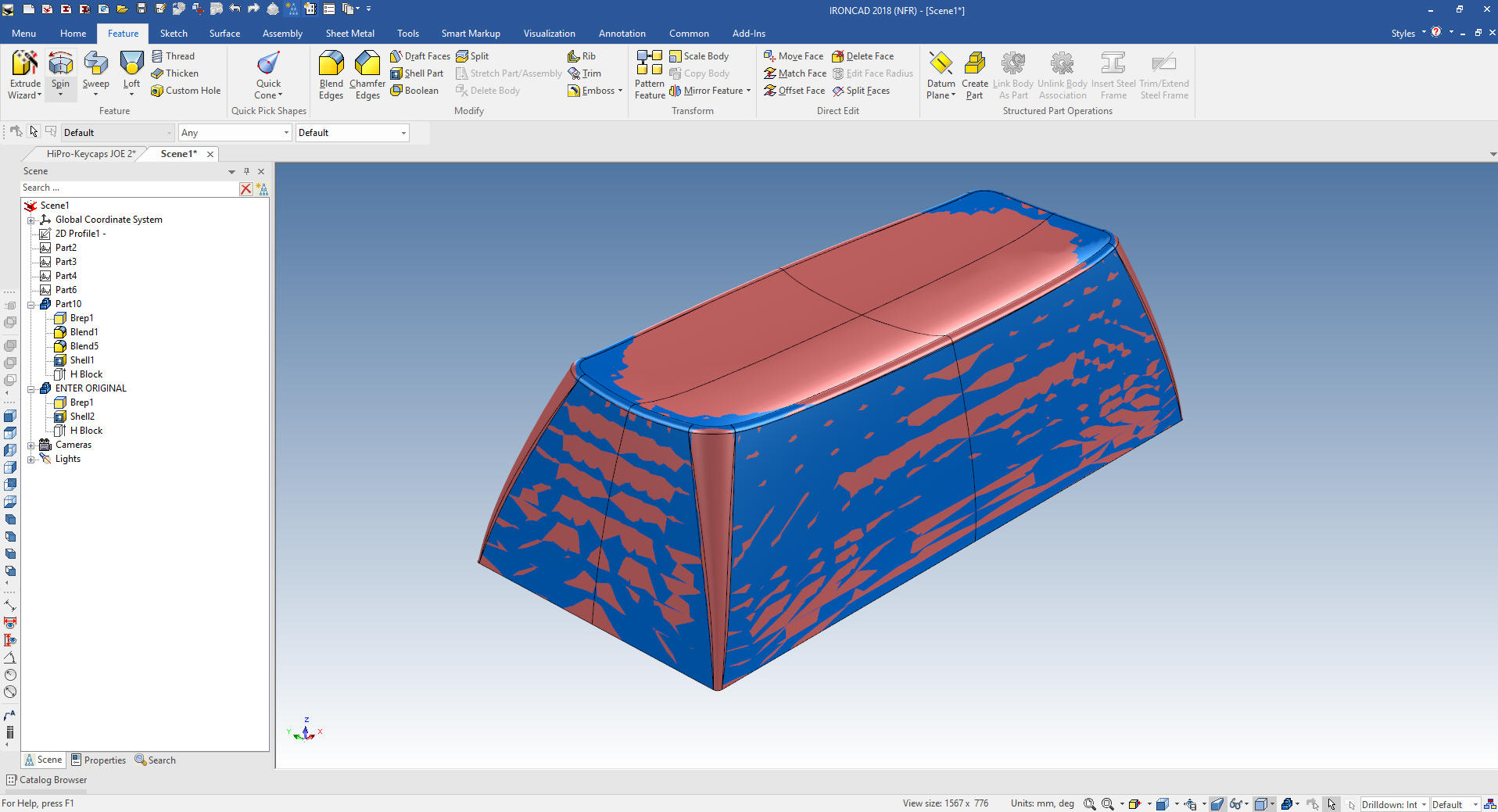 Here are the two keys in an explode configuration with hole blocks dropped on each showing change.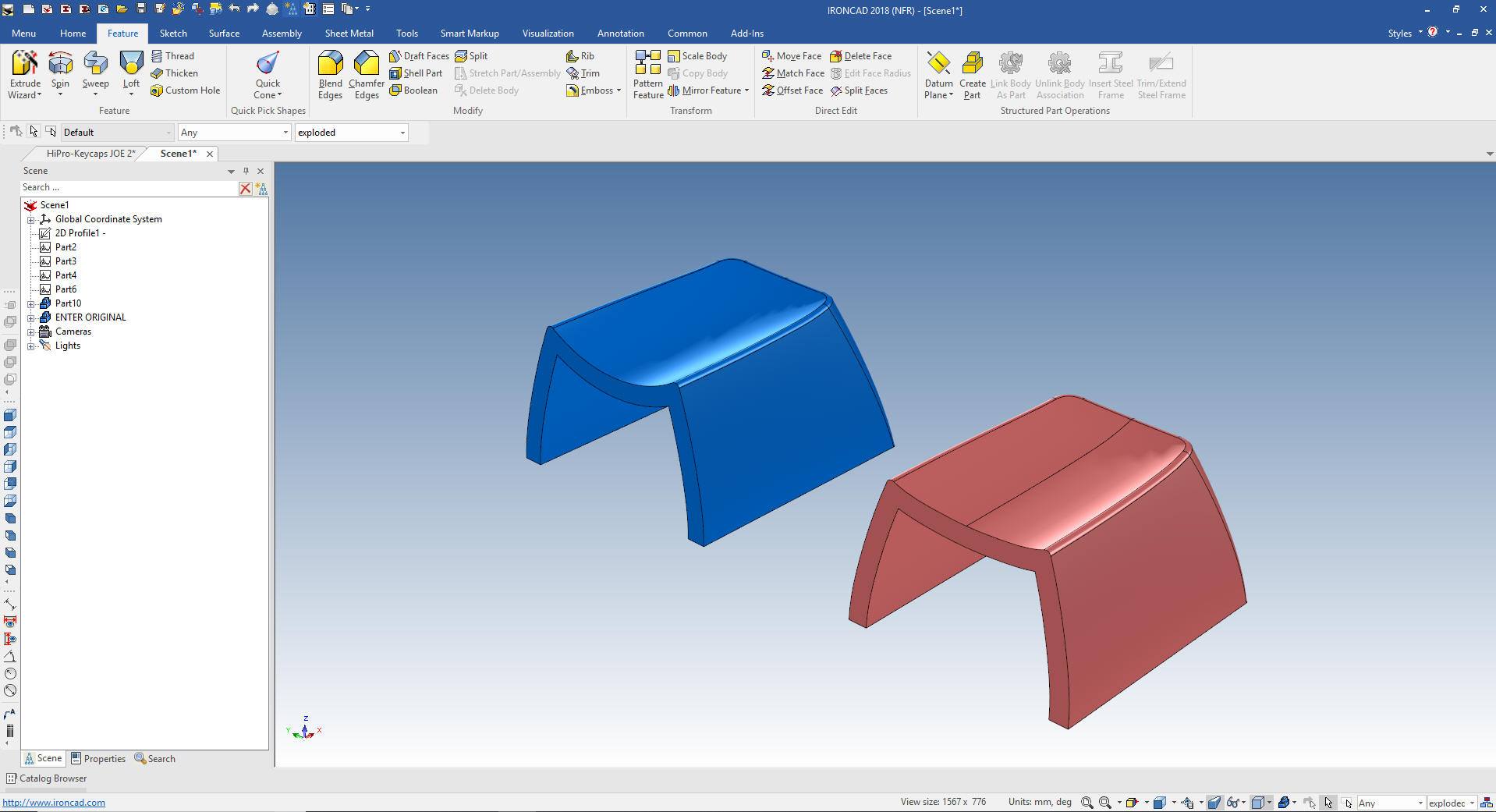 Not so simple? Yes, many times you have to play with the parts. I have a extensive knowledge of hybrid modeling since having hybrid capabilities available from the introduction of solid modeling in 1995. I was introduced to history base modeling in 1998 with the release of IronCAD. It has always had the flexible drag and drop, sketching and direct edit design functionality since the beginning. The surface functionality added a few years later was just icing on the on an already highly productive cake.

This functionality is not easily accessible in the current Solidworks clones. I suppose I could now add hybrid modeling to five functions defined below.

Five Functions that Increase 3D CAD Productivity!!


---

If you would like to try IronCAD, please download for a 30 day evaluation.

If you would like more information or download IronCAD


To get more familiar with
IronCAD please got through the following course.


Self-Paced Training Guide - Introduction Course
After you feel comfortable with IronCAD, import a part or an assembly from your current system and start modifying the parts and assembly. Assemblies will come into one single model space with all the parts available, usually named and organized into assemblies and sub-assemblies. IronCAD will import parts and assemblies from all of the popular packages.
Give me a call if you have any questions. I can set up a skype or go to meeting to show this part or answer any of your questions on the operation of IronCAD. It truly is the very best conceptual 3D CAD system.
---
Please review these other exercises that show the unique productive advantages of IronCAD, Streamline Sketching and Feature Based Modeling over the constrained sketching of the experienced Solidworks user.
IronCAD vs Fusion 360
IronCAD vs Solidworks
IronCAD vs Creo
IromCAD vs NX
IronCAD vs CATIA
IronCAD vs Inventor
You can see more on modeling techniques with ZW3D.
3
D Modeling Techniques Defined
---
TECH-NET Engineering Services!

We sell and support IronCAD and ZW3D Products and
provide engineering services throughout the USA and Canada!
---
If you are interested in adding professional hybrid modeling capabilities or looking for a new solution to increase your productivity, take some time to download a fully functional 30 day evaluation and play with these packages. Feel free to give me a call if you have any questions or would like an on-line presentation.